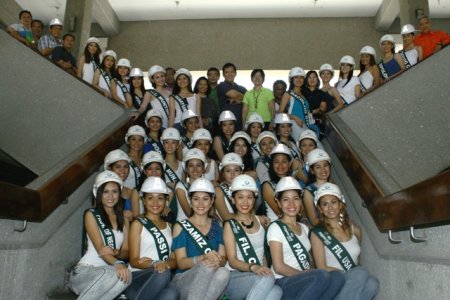 West Zone concessionaire Maynilad Water Services, Inc. (Maynilad) through the Maynilad Water Academy, in partnership with the Metropolitan Waterworks and Sewerage System (MWSS) and the Philippine Water Works Association (PWWA), recently conducted an educational tour for the candidates of Miss Earth Foundation, Inc. held at the La Mesa Treatment Plant 2 in Quezon City.
"The ultimate goal is for them to appreciate the importance of water. Since they are coming from all over the Philippines, we are hoping that they can share to their respective local governments and water districts the experiences and the information they have learned on this educational tour," said Maynilad President and CEO Ricky Vargas. He was also thankful that the candidates took time out to visit Maynilad's facilities.
The visit is part of the pre-pageant activities. Miss Earth executive director Cathy Untalan stressed that environmental awareness is a big priority for the candidates; she furthers that "scheduling this kind of activity will only increase the awareness of our candidates on how the basic water system works and we thank Maynilad for extending this opportunity."
In celebration of the pageant's theme of "International Year of Water Cooperation," the 40 aspiring beauty ambassadors had an opportunity to learn and to understand the basic water supply operations of Maynilad.
A facility tour gave the candidates an overview of how raw water was treated for domestic consumption.
The Miss Earth Philippines candidates were one in saying that the tour gave them more insights on how safe water is processed and delivered to consumers. The candidates were also inducted as "Water Warriors."
Maynilad is the largest private water concessionaire in the Philippines in terms of customer base. It is a concessionaire of the MWSS for the West Zone of the Greater Manila Area, which is composed of the cities of Manila (all but portions of San Andres & Sta. Ana), Quezon City (west of San Juan River, West Avenue, EDSA, Congressional, Mindanao Avenue, the northern part starting from the Districts of the Holy Spirit and Batasan Hills), Makati (west of South Super Highway), Caloocan, Pasay, Parañaque, Las Piñas, Muntinlupa, Valenzuela, Navotas and Malabon—all in Metro Manila; the cities of Cavite, Bacoor and Imus, and the towns of Kawit, Noveleta and Rosario—all in Cavite Province.