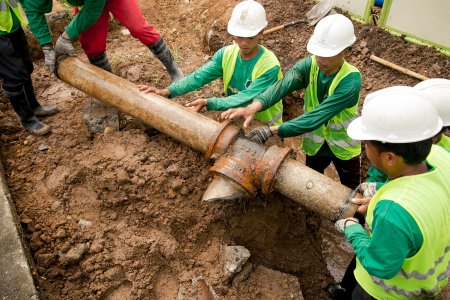 Maynilad Water Services, Inc. (Maynilad) has allotted almost P3.2 billion in 2015 to reduce Non-Revenue Water (NRW) in the West Zone of the Greater Manila Area—a 45% increase from the company's NRW capital expenditure of P2.2 billion in 2014.
Of the said amount, almost P2.1 billion would be dedicated for selective pipe replacement in the areas of Caloocan, Manila, Parañaque and Cavite.
Another P680 million have been allotted for meter management, which aims to improve billing accuracy and reduce meter malfunctions that contribute to commercial losses (i.e., losses due to theft and inaccuracies in metering and data handling).
Maynilad earmarked almost P400 million for the establishment and maintenance of District Metered Areas (DMA) that allow for more effective monitoring and management of water supply and pressure, as well as easier identification of leaks through diagnostics, assessment, and leak repair. The rest of the budget will be used for leak detection equipment and technical services.
"In 2014, we have successfully reduced water losses to 33% from 35% in 2013. This year, we want to do more. Our increased investment in our NRW management program aims to recover more water that can be reallocated for the use of our customers," said Maynilad President and CEO Ricky P. Vargas.
NRW is defined as the gap between the amount of water put into the distribution system and the amount of water for which customers are actually billed. NRW reflects volumes of water being lost through leaks (real/physical losses), and water not being invoiced or not being accurately measured (apparent/commercial losses).
Maynilad is the largest private water concessionaire in the Philippines in terms of customer base. It is the agent and contractor of the Metropolitan Waterworks and Sewerage System (MWSS) for the West Zone of the Greater Manila Area, which is composed of the cities of Manila (certain portions), Quezon City (certain portions), Makati (west of South Super Highway), Caloocan, Pasay, Parañaque, Las Piñas, Muntinlupa, Valenzuela, Navotas and Malabon all in Metro Manila; the cities of Cavite, Bacoor and Imus, and the towns of Kawit, Noveleta and Rosario, all in Cavite Province.
PHOTO: Maynilad conducts leak repair operations as part of its Non-Revenue Water Management Program.