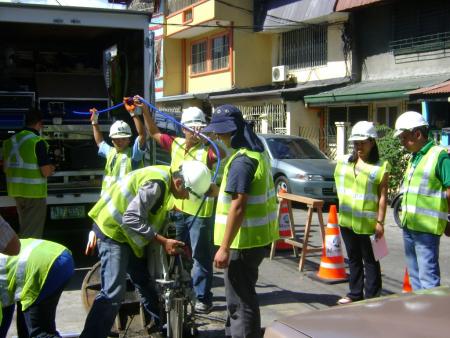 Maynilad Water Services, Inc. (Maynilad) has allotted more than P2.6 billion in 2011 to reduce Non Revenue Water (NRW) in the West zone of the Greater Manila Area – a 53% increase from the company's NRW capital expenditure of P1.7B in 2010.
Engr. Irineo L. Dimaano, Maynilad's Head of Central Non-Revenue Water (CNRW) disclosed that "P916 million would be dedicated for selective pipe rehabilitation program to recover almost 140 million liters of water per day (MLD) in the areas of Sampaloc, Tondo, Qurino-Roosevelt, and other various locations."
For 2011, Maynilad is eyeing to reduce water losses to 48%. The company's investments on the network infrastructure as well as the continuous trainings of its employees on NRW management activities are expected to help sustain Maynilad's achievements and continue the NRW reduction programs.
Moreover, Dimaano shared that Maynilad has acquired a specialized leak detection device — leak correlators — that work for large pipes. This will, he said, be a big help in locating leaks on primary lines. Furthermore, Maynilad is also in the process of exploring equipment that functions similarly as the Sahara® mobile leak detection system. Both equipments will open possibilities in covering primary networks that the company can subject to leak detection.
Late last year, Maynilad has also started to spearhead the trial implementation of an automatic pressure regulating device (I2O) which would help the company manage the excessive pressures in the pipe system.
Maynilad Water Services, Inc. is owned and managed by DMCI-MPIC Water Company, Inc. (DMWCI), a joint venture between Metro Pacific Investments Corporation (MPIC) and DMCI Holdings, Inc. (DMCIHI). It serves the cities of Manila (all but portions of San Andres & Sta Ana), Quezon City (west of San Juan River, West Avenue, EDSA, Congressional, Mindanao Avenue, the northern part starting from the Districts of the Holy Spirit & Batasan Hills), Makati (west of South Super Hi-way), Caloocan, Pasay, Parañaque, Las Piñas, Muntinlupa, Valenzuela, Navotas and Malabon all in Metro Manila, Cavite City, and the towns of Bacoor, Imus, Kawit, Noveleta and Rosario, all in Cavite Province.

PHOTO CAPTION: A Maynilad leak-detection team deploys the Sahara® mobile leak detection system to accurately detect leaks, pockets of trapped gas, and structural defects in water main lines without interrupting water service. Maynilad is the first water company in Asia to use the state-of-the-art device.