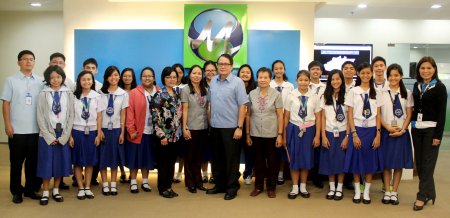 Maynilad Water Services, Inc. (Maynilad) and the First Pacific Leadership Academy (FPLA) have donated P500,000 to support the six teams from Manila Science High School who will be representing the Philippines at the final round of the 2014 International Your Invention Contest in South Korea.
Organized by the Korea University Invention Association, the contest aims to serve as an educational and interactive gateway to create opportunities for students to get inventive inspiration from interaction with fellow student inventors.
"The Maynilad and FPLA partnership with Manila Science High School is a privilege. We are grateful for this opportunity, as it aligns well with the MVP Group's efforts to build a culture of innovation. We wish the students and faculty the best of luck in Korea. We are proud of you," said Maynilad President and CEO Ricky P. Vargas.
"Maynilad has gone a long way in supporting endeavors that aim to develop leaders by investing on the youth. We commit to join hands with Maynilad," said FPLA Executive Director Roy Agustin K. Evalle.
The FPLA is the country's first corporate university for global leaders and innovators. Maynilad is the largest private water concessionaire in the Philippines in terms of customer base. It is the concessionaire of the MWSS for the West Zone of the Greater Manila Area.
PHOTO CAPTION: Maynilad officials led by President and CEO Ricky P. Vargas (front row, middle) with the Philippine delegates to the finals of the 2014 International Your Invention Contest.