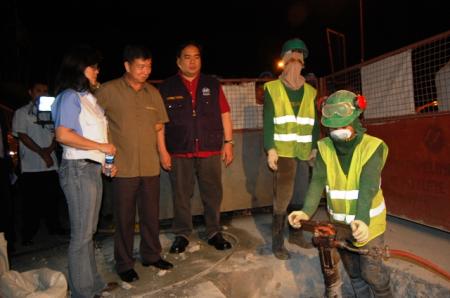 Maynilad is stepping up its leak repair activities as part of the company's measures to avert water shortage due to El Niño.
Last January 19, National Disaster Coordinating Council (NDCC) Chairman Norberto Gonzales, Metropolitan Waterworks and Sewerage System (MWSS) Administrator Jose Diosdado Allado, and Maynilad engineers conducted a joint inspection of the ongoing repair of the 400-mm diameter primary line along EDSA.
To minimize excavations and speed up the leak repair, Maynilad's leak detection and repair crews use the company's newly acquired modern leak detection equipment, which utilizes acoustic technology to pinpoint the precise location of leaks.
Aside from its intensified leak repair program, the company is also optimizing and reactivating its deepwells to supplement its water supply for its customers. Maynilad is likewise extending the operation of its in-line boosters.
For its part, the NDCC has proposed for the creation of an Executive Order which will instruct the Department of Public Works and Highways (DPWH), the MMDA, and local government units to dispense with the permit requirement as a pre-condition to undertake repairs of leaking water pipelines, as well as repairs necessary to address water supply and quality concerns.
PHOTO CAPTION: Yolanda Lucas of Maynilad's Central Non-Revenue Water (CNRW), NDCC Chairman and Defense Secretary Norberto Gonzales, and MWSS Administrator Jose Diosdado Allado inspect the test pit for the repair of the 400-mm diameter mainline along EDSA in Pasay City last January 19.