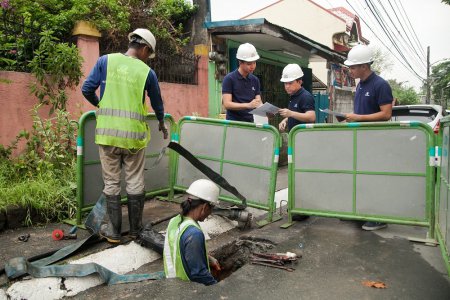 West Zone concessionaire Maynilad Water Services, Inc. (Maynilad) repaired about 10,000 pipe leaks in the first half of 2018, bringing the company's total leak repairs to 344,208 since its re-privatization in 2007.
The repair of these pipe leaks—which were found mostly in Quezon City, Parañaque and Muntinlupa—enabled Maynilad to recover some 44 million liters of water per day (MLD), enough the meet the water requirement of about 304,000 people.
Plugging leaks in the distribution system is a major component of Maynilad's Non-Revenue Water (NRW) Management Program, which seeks to bring down physical and commercial water losses. In 2018, Maynilad has allotted P 274 million for its leakage control projects. Maynilad will also acquire an upgraded Sahara® Leak Detection Equipment that will help fast-track leak detection and repairs along primary lines.
"Maynilad inherited a very old pipe system. Instead of doing total pipe replacements, which can be very costly and disruptive to the motoring public, we proactively look for underground pipe leaks and repair these so we can tighten our network through this more cost efficient yet effective means," said Maynilad President and CEO Ramoncito S. Fernandez.
Aside from leak detection and repair, Maynilad's NRW Management Program also includes network diagnostics, establishment of District Metered Areas, replacement of old water meters and selective pipe replacement.
Maynilad is the largest private water concessionaire in the Philippines in terms of customer base. It is the agent and contractor of the Metropolitan Waterworks and Sewerage System (MWSS) for the West Zone of the Greater Manila Area, which is composed of the cities of Manila (certain portions), Quezon City (certain portions), Makati (west of South Super Highway), Caloocan, Pasay, Parañaque, Las Piñas, Muntinlupa, Valenzuela, Navotas and, Malabon, all in Metro Manila; the cities of Cavite, Bacoor and Imus, and the towns of Kawit, Noveleta, and Rosario, all in Cavite Province.