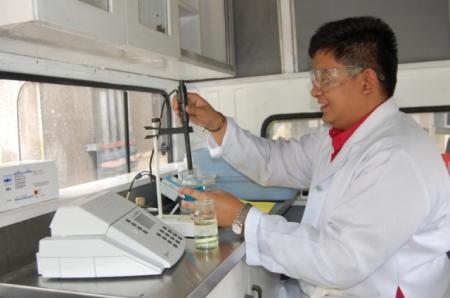 The Department of Health's (DOH) recent monthly quality compliance report once again confirmed the safety and potability of the water distributed by Manilad to its customers in the West Zone.  The DOH is in-charge of formulating the health guidelines for the Philippine National Standards for Drinking Water (PNSDW), which is based on World Health Organization (WHO) standards.
Maynilad is the largest private water concessionaire in the Philippines in terms of customer base.  Since privatization in 1997, the quality of the water in the distribution always met the 95% satisfactory limit for bacteriological quality in the PNSDW.  When Maynilad's new owners took over in 2007, the bacteriological quality compliance improved to 99.7%.  Since the start of 2009, Maynilad's water bacteriological quality has been at 100%.
Ensuring water quality
Maynilad utilizes ISO-certified La Mesa Treatment Plants 1 & 2 to ensure the quality of the water it distributes to its customers.  Maynilad's water is monitored in two stages — first on the treatment plant and then on the customer's tap.
To guarantee compliance to the Philippine National Standards for Drinking Water, every process in the two treatment plants is monitored regularly.  The frequency of the monitoring vary depending on extenuating factors – if the water has more impurities because of typhoons, the process is monitored more often.  Corrective actions are immediately initiated once any operational parameters are not met or are exceeded.  As a result, the output water is at times even better than the set values of the PNSDW.
Once the water leaves the two plants, Maynilad's Central Laboratory makes sure that the water that comes out of the faucet remains fit for drinking.  Utilizing more than 800 sampling points (well beyond what is required by PNSDW), the Central laboratory together with the MWSS-Regulatory Office and the LGU Health Dept monitors that the water on Maynilad's concession area is safe.
Maynilad's Central Laboratory head, Teresita Mancera, qualifies that "water coming out of the plant is safe for drinking — It has undergone treatment (coagulation, sedimentation, filtration and disinfection).  However, contamination may happen in the distribution network when the line is damaged, especially when illegal connections are made."  This is why, she added, "customers should be vigilant against illegal connections – the health of their families depend on it."
Maynilad's unwavering commitment to provide safe water is complemented by the significant service improvements that the company has initiated since 2007.  Less than three years under its new owners, Maynilad has spent nearly P20 billion to replace old pipes, upgrade water facilities and expand its distribution network in the West Zone.  These capital expenditures (CAPEX) are more than double the P8 billion investments made by the previous owners from 1997 to 2006.
Photo caption: Maynilad's chemists and water inspectors visit the 800-plus sampling points to ensure that only safe drinking water reaches the company's customers.