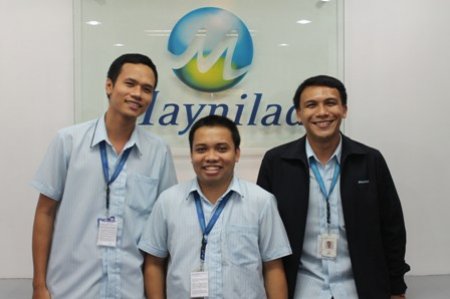 The entry of mechanical engineers Jeffrey Ojena, Jeremy Montemayor and Erwin Batalla of Maynilad Water Services, Inc. (Maynilad) qualified to the final round of the IdeaSpace National Competition, the first private-led comprehensive inception program in the Philippines. The competition is spearheaded by IdeaSpace Foundation, Inc., a non-profit organization that aims to support budding technology entrepreneurs in the country so they can develop their groundbreaking ideas into successful commercial products.
Entitled "Power Generating Rumble Strips (PGRS)", the entry of Ojena, Montemayor and Batalla was selected from the 700 innovative entrepreneurial ideas submitted from all over the country. The PGRS involves the development of rumble strips (similar to those used as safety features on roads) into a means for harvesting energy from moving vehicles.
Conceptually, the residual kinetic energy produced when a vehicle is forced to slow down over the rumble strips can be converted into electric energy, which can sustain the electricity needs of a single toll gate in NLEX Balintawak. PGRS can benefit the environment since it will utilize clean energy compared to conventional power plants.
"Initially, we joined the IdeaSpace competition for fun. But as we began working on our idea, we realized its potential contribution to the country. In the end, it was our concern for the Filipino people and the environment which motivated us to work hard on our entry," said team leader Jeremy Montemayor.
"We have always challenged our engineers to be innovative in their work. Their entry is solid proof of how innovative they can be. We are extremely proud of what they have accomplished," said Maynilad President and CEO Ricky P. Vargas.
Maynilad is the largest private water concessionaire in the Philippines in terms of customer base. It is a concessionaire of the Metropolitan Waterworks and Sewerage System (MWSS) for the West Zone of the Greater Manila Area, which is composed of the cities of Manila (all but portions of San Andres & Sta Ana), Quezon City (west of San Juan River, West Avenue, EDSA, Congressional, Mindanao Avenue, the northern part starting from the Districts of the Holy Spirit & Batasan Hills), Makati (west of South Super Highway), Caloocan, Pasay, Parañaque, Las Piñas, Muntinlupa, Valenzuela, Navotas and Malayan all in Metro Manila; the cities of Cavite, Bacoor and Imus, and the towns of Kawit, Noveleta and Rosario, all in the Cavite Province.
IN PHOTO: The Maynilad engineers whose entry, "Power Generating Rumble Strips", qualified to the final round of the IdeaSpace competition: (L-R) Jeffrey Ojena, Erwin Batalla and Jeremy Montemayor.