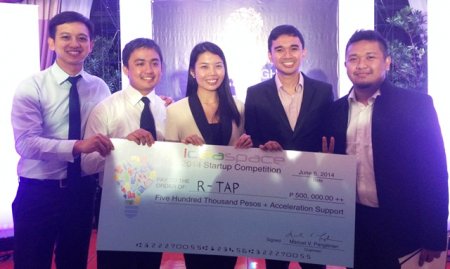 A team of engineers from Maynilad Water Services, Inc. (Maynilad) was recently declared as one of the 10 winning teams of the IdeaSpace National Competition, the first private-led comprehensive inception program in the Philippines.
Composed of Engrs. Mark Stanley Cleto, Stephen Larcia, Ann Margarett Marigondon, Gregorio Ortiz III and Rafael King Ramos, the Maynilad team developed Real-Time Adjusting Pump (RTAP) System—a system that allows pumps to continuously adjust their operations so that only the required pressure is applied inside a water distribution network.
Powered by an advanced self-learning logic, the RTAP System has the ability to regulate the energy consumption and minimize the water losses of water service providers.
The Maynilad engineers' entry was one of the 10 selected from 600 entrepreneurial ideas gathered from all over the Philippines. The ten start-up finalists will each receive P1 million worth of funding, training and services.
This is the second time that a team of Maynilad engineers landed a spot in the IdeaSpace National Competition. Last year, the group of Engrs. Jeffrey Ojena, Jeremy Montemayor and Erwin Batalla was declared as the overall winner for their "Power Generating Rumble Strips (PGRS)"—a type of road safety feature which harvests energy from moving vehicles.
"Innovation is at the core of who we are as a company. We always challenge our people to think and go beyond the norm for the sake of service excellence and operational efficiency. We are extremely proud of our engineers and what they have accomplished," said Maynilad President and CEO Ricky P. Vargas.

The IdeaSpace National Competition is spearheaded by IdeaSpace Foundation, Inc., a non-profit organization that aims to support budding technology entrepreneurs in the country so they can develop their groundbreaking ideas into successful commercial products.
IN PHOTO: The Team R-TAP is composed of Maynilad engineers (L-R) Stephen Larcia, Gregorio Ortiz III, Ann Margarett Marigondon, Mark Stanley Cleto and Rafael King Ramos.