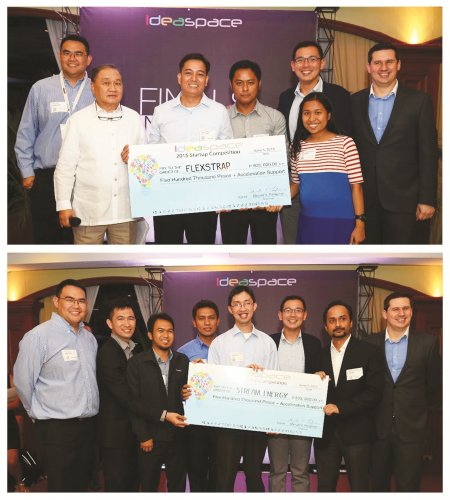 Two teams from Maynilad Water Services Inc. were declared as winners in the 2015 IdeaSpace Startup Competition, the first private-led comprehensive inception program in the Philippines.
This competition is spearheaded by the non-profit organization Ideaspace Foundation, which aims to help budding technology entrepreneurs develop groundbreaking innovations and transform these into successful businesses.
The first team—composed of engineers Rodel Serrano, Anna Melissa Serrano and Paolo Reyes—developed "FlexStrap", an adjustable stainless steel strap that can connect smaller pipes to the mainline of varied sizes and types.This eliminates the need for saddle clamps that come in different sizes for different types of pipes, thus promoting lower inventory costs and faster installation of water connections.
Meanwhile, the second team came up with "Stream Energy", which involves the use of a small turbine to collect hydroelectricity from flowing tap water. A brainchild of Maynilad employees Rafael dela Cruz, Louiejhon Princesa, and Jonathan Pascua, "Stream Energy" can help users save on energy cost and have an alternative power source during times of emergencies.
The Maynilad teams were two of only 10 winning ideas culled from over 1,000 entries from the Philippines and 15 other countries. All 10 winners will receive P1 million in seed funding and grant for trainings, consultations, and business integration, among others.
"We are extremely proud of our employees' accomplishments. Winning in the IdeaSpace Startup Competition for three straight years is a clear indication that the culture of innovation is now deeply embedded in Maynilad," said Maynilad President and CEO Ricky P. Vargas.
Maynilad is the largest private water concessionaire in the Philippines in terms of customer base. It is the agent and contractor of the Metropolitan Waterworks and Sewerage System (MWSS) for the West Zone of the Greater Manila Area, which is composed of the cities of Manila (certain portions), Quezon City (certain portions), Makati (west of South Super Highway), Caloocan, Pasay, Parañaque, Las Piñas, Muntinlupa, Valenzuela, Navotas and Malabon all in Metro Manila; the cities of Cavite, Bacoor and Imus, and the towns of Kawit, Noveleta and Rosario, all in Cavite Province.
PHOTO CAPTIONS:
(Above) Maynilad employees Rodelio Serrano, Paolo Reyes and Anna Melissa Serrano (3rd to 5th from left, respectively) receive the award for their "FlexStrap" entry from IdeaSpace officers (from left) Co-Founder Earl Martin Valencia, Board of Trustee Manuel Pangilinan, Co-Founder Marthyn Cuan, and Meralco Chief Information Adviser Gavin Barfield. (Below) Stream Energy members Rafael dela Cruz, Louiejhon Princesa, Jonathan Pascua, and Justin dela Cruz (2nd to 5th from left, respectively) is joined by their technical adviser Praveen Kittur (7th from left) as they also receive their award from the IdeaSpace officials.