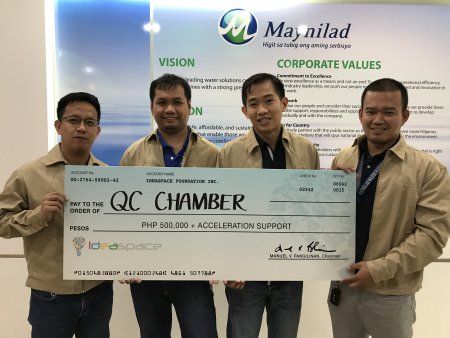 Engineers of Maynilad Water Services Inc. (Maynilad) were declared winners in the 2017 IdeaSpace Startup Competition of IdeaSpace Foundation—a non-profit organization which aims to help budding technology entrepreneurs develop ground-breaking innovations and transform these into successful businesses. 
Maynilad engineers Edison Bao, Edwin Ryan Tsai, Alvin Borral, and Cristopher Ganal won with their entry "Quick Construct Chamber". This innovation is an underground steel chamber that can be assembled and installed quickly to enclose pipe accessories (like valves and flowmeters) during construction. Thus, it helps to minimize public inconvenience for motorists, and also reduces risk of accidents due to open-pit excavations. It is also cheaper compared to the conventional concrete chamber.
The "Quick Construct Chamber" entry won over 377 other entrepreneurial ideas gathered from all over the Philippines, earning for the Maynilad engineers ₱1 million worth of funding, training and services.
They also won a spot in the Intrapreneur Acceleration Program (IAP) of IdeaSpace, which encourage teams from the First Pacific group of companies to pitch their internal product developments for incubation and acceleration under IdeaSpace. The other IAP winner this year is from the Philippine Navy sponsored by Makati Medical Center Foundation.
"As a water solutions company, it is important that our people always think innovatively to enhance our operational efficiency and ensure service excellence. I am extremely proud to note that Maynilad has been a consistent winner in IdeaSpace, and I wish to congratulate this year's winning innovators," said Maynilad President and CEO Ramoncito S. Fernandez.
PHOTO CAPTION: Maynilad engineers (left to right) Cristopher Ganal, Edison Bao, Edwin Ryan Tsai and Alvin Borral hold the P500,000 mock check which is part of the award for their "Quick Construct Chamber" entry in this year's IdeaSpace Competition.