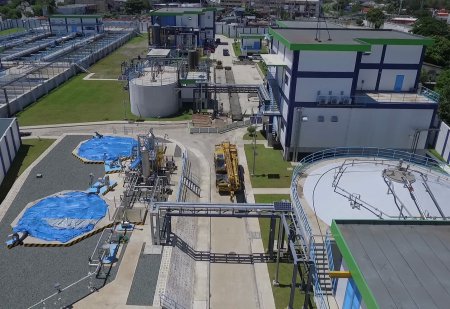 West Zone concessionaire Maynilad Water Services, Inc. (Maynilad) is investing P16.8 billion in capital expenditure (Capex) projects this 2019 for the continued enhancement and expansion of its water and wastewater services.
"Maynilad is dedicating a bigger share of this year's capital investment toward wastewater projects, as we seek to facilitate sewerage coverage expansion in the West Zone. Accelerating our wastewater projects will require a lot of resources but we are committed to do our part in protecting the health of our customers and the environment," said Maynilad President and CEO Ramoncito S. Fernandez.
About P11.4 billion—or almost 70% of Maynilad's P16.8 billion Capex budget for 2019—will be spent for wastewater management projects, to comply with the new and more stringent effluent standards and to maintain network reliability. This amount will be used for the construction of a new sewage treatment plant (STP) in Central Manila, installation of about 30 kilometers of sewer lines in Las Piñas City, upgrade of existing STPs to include nutrient-removal processes, lot acquisitions for new STPs and pump stations,  installation of new sewer service connections,  and maintenance of the existing sewer network.
Meanwhile, to continue enhancing water supply and pressure in the West Zone, about P1.9 billion of the Capex budget has been allocated for water operations support such as the construction of additional pumping stations and reservoirs for better supply management, service expansion programs, and water source projects.
Maynilad is also allocating P3 billion this year for its water loss recovery or Non-Revenue Water (NRW) Management Program. This covers leak detection and repair, meter management, pipe replacements, and network diagnostics, among others.
The rest of the budget will go to the company's Customer Service and Information Program, which involves modernizing data management and information systems to improve service delivery.
Funding for Maynilad's infrastructure investments will come from local and international bank loans, as well as from internally generated funds. The water company expects to generate over 49,200 jobs from its P16.8-billion Capex program this year.
Maynilad is the largest private water concessionaire in the Philippines in terms of customer base. It is the agent and contractor of the Metropolitan Waterworks and Sewerage System (MWSS) for the West Zone of the Greater Manila Area, which is composed of the cities of Manila (certain portions), Quezon City (certain portions), Makati (west of South Super Highway), Caloocan, Pasay, Parañaque, Las Piñas, Muntinlupa, Valenzuela, Navotas and Malabon all in Metro Manila; the cities of Cavite, Bacoor and Imus, and the towns of Kawit, Noveleta and Rosario, all in Cavite Province.
PHOTO CAPTION: Maynilad has earmarked P16.6 billion for its 2019 Capex projects. Almost 70% of this budget will be spent for wastewater management, in line with company efforts to comply with new and stricter effluent standards. The photo shows the Parañaque STP, currently Maynilad's newest and biggest wastewater treatment facility.