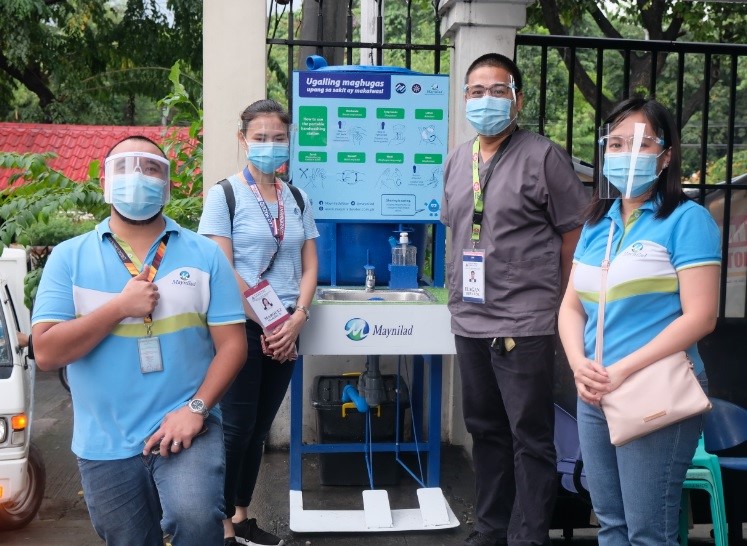 West Zone concessionaire Maynilad Water Services, Inc. (Maynilad) donated 85 handwashing stations in 2021 to several local government units (LGUs), public schools, and COVID-19 quarantine facilities across its service area in line with continuing efforts to curb the pandemic.
Maynilad donated 31 contactless handwashing stations that were installed in public markets, health centers, and city halls as of the last quarter of 2021. The water company also provided 2,907 one-liter liquid hand soaps, 2,907 liters of disinfectant, and 76 liters of alcohol for these stations.
In addition, Maynilad donated 49 handwashing stations to public schools that serve as COVID-19 vaccination centers, and installed five handwashing stations in quarantine facilities within the West Zone.
"While mobility restrictions have been eased in recent months, people still have to remain vigilant in the face of a COVID-19 surge. Access to handwash facilities makes it easier for the populace to fight the spread of infection and disease," said Maynilad President and CEO Ramoncito S. Fernandez.
Maynilad is the largest private water concessionaire in the Philippines in terms of customer base. It is the concessionaire of the Metropolitan Waterworks and Sewerage System (MWSS) for the West Zone of the Greater Manila Area, which is composed of the cities of Manila (certain portions), Quezon City (certain portions), Makati (west of South Super Highway), Caloocan, Pasay, Parañaque, Las Piñas, Muntinlupa, Valenzuela, Navotas and Malabon all in Metro Manila; the cities of Cavite, Bacoor and Imus, and the towns of Kawit, Noveleta and Rosario, all in Cavite Province.
PHOTO CAPTION: Barangay Batasan Hills Super Health Center, represented by its Environmental Protection and Waste Management Department's Maribelle Marquez (2nd from left), receives the contactless handwashing donated by Maynilad. The water company donated 85 handwashing stations to several LGUs, public schools, and COVID-19 quarantine facilities in the West Zone.