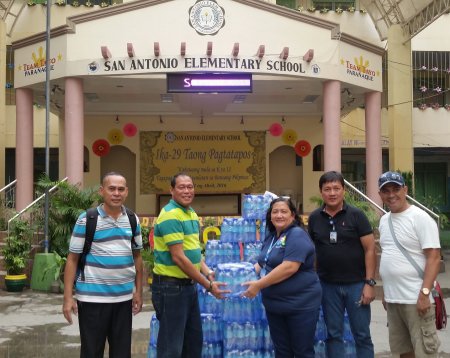 Maynilad Water Services, Inc. (Maynilad) recently donated 40,000 pieces of bottled water to select schools all over its West concession area. The bottled water is intended for the consumption of teacher-volunteers during the national elections on May 9. The items were turned over to school officials.
"This simple token of appreciation is Maynilad's way of recognizing the teacher-volunteers\' role in ensuring clean and honest elections for the Filipino people," said Maynilad President and CEO Ramoncito S. Fernandez, citing that teachers are among the unsung heroes of the country because of their hard and selfless work during the elections.
The photo shows Maynilad's Parañaque Business Area head Lizabel R. Reyes (center) turning over 2,000 pieces of Maynilad bottled water to San Antonio Elementary School principal Gerry Lumaban (second from left).