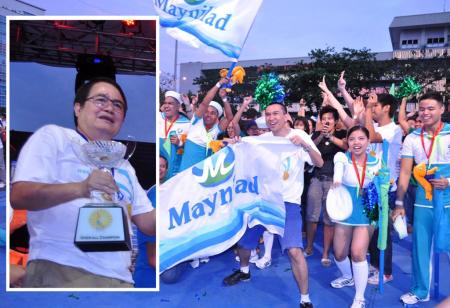 Maynilad Water Services, Inc. (Maynilad) dominated the recently concluded 2nd MVP Olympics, besting 16 other MVP companies, including powerhouse teams PLDT and Meralco, who came in at 2nd and 3rd places, respectively. Approximately 2,000 athletes participated in the event.
Garnering a total of 16 golds, 5 silvers, and 6 bronze medals, Maynilad emerged as the "Overall Champion" in the 3-day sports festival that included various athletic events and fun games. "The long hours of hard work and practice paid off. We believed in our individual and collective strengths and we were able to bring out the best in each other," an ecstatic Ricky Vargas, Maynilad President and CEO, shared. "This is the new Maynilad – guided by 6 "winning values": Bilis, Bihasa, Bigay-todo, Bayanihan, Bilib, \'Bah, Galing!" added Vargas.
MVP Olympics Project Director Patrick Gregorio extolled the annual sports event saying, "More than a competition, this is really a vehicle for nurturing camaraderie among the various MVP companies. And aside from having fun, we also want every employee to develop an active, healthy lifestyle. Like what our Chairman, Manuel Pangilinan, always says — Sports is a powerful catalyst for change. It motivates each one of us to become better persons. It gives us courage to surmount challenges. It can even offer an escape from poverty. Sports… can be the answer to our desire to lead better lives."
Other companies that joined the sports fest include Smart, ePLDT, Metro Pacific Investments Corp., TV5/Mediaquest, Philex Mining Corp., Makati Medical Center, Cardinal Santos Medical Center, Davao Doctors Hospital, Our Lady of Lourdes Hospital, Riverside Memorial Hospital, Metro Pacific Tollways Corp., Outback Steakhouse, Burger King, and SPI Global.
IN PHOTO: Maynilad contingent celebrates their win at the 2nd MVP Olympics while Maynilad President and CEO Ricky Vargas (inset) proudly accepts the "Overall Champion" trophy.