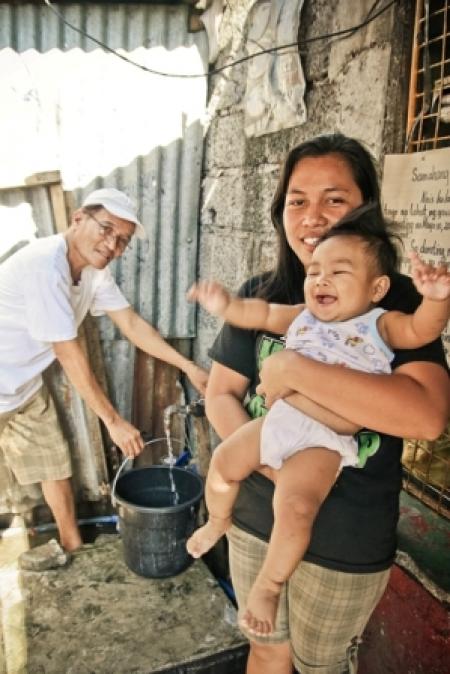 Since its reprivatisation in 2007, Maynilad Water Services, Inc. (Maynilad) has registered a 25% increase in its served population, from 6.1 million people by the end of 2006 to 7.6 million by H1 2011.

Of its current customers, 82% have 24-hour uninterrupted water supply—a dramatic increase from the 32% which enjoyed the same service level in 2006.

"Our goal is to provide all our customers with 24-hour water supply at a minimum pressure of 7 psi by 2012." said Maynilad President and CEO Ricky Vargas.

According to Vargas, the dramatic service level improvements were due to the company's aggressive capital expenditure program.

"The infrastructure we inherited needs a lot of upgrading. In order to reach more customers and make our water services more reliable, we have to invest in our distribution lines and facilities," he added.

The company's owners, Metro Pacific Investments Corporation and DMCI Holdings, Inc., earmarked about P41 billion to improve and expand its services in the West Zone until 2012. The five-year committed investment is approximately five times more than what was spent from 1997 to 2006.

Maynilad is the largest private water concessionaire in the Philippines in terms of customer base. It is a concessionaire of the Metropolitan Waterworks and Sewerage System (MWSS) for the West Zone of the Greater Manila Area, which is composed of the cities of Manila (all but portions of San Andres & Sta Ana), Quezon City (west of San Juan River, West Avenue, EDSA, Congressional, Mindanao Avenue, the northern part starting from the Districts of the Holy Spirit & Batasan Hills), Makati (west of South Super Hi-way), Caloocan, Pasay, Paranaque, Las Pinas, Muntinlupa, Valenzuela, Navotas and Malabon all in Metro Manila; Cavite City, and the towns of Bacoor, Imus, Kawit, Noveleta and Rosario, all in Cavite Province.


PHOTO CAPTION: More than 7.6 million Filipinos in the West Zone of the Greater Manila Area enjoy clean, reliable and affordable water from Maynilad.