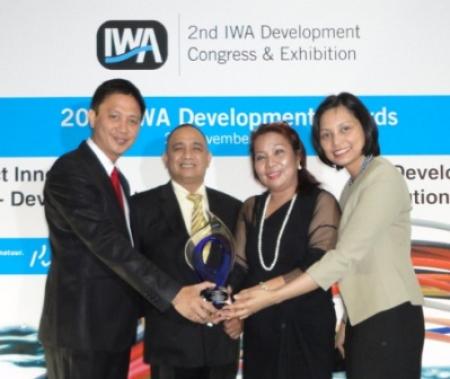 West Zone concessionaire Maynilad Water Services, Inc. (Maynilad) recently won the top prize from the International Water Association (IWA) of the United Kingdom for its "Samahang Tubig Maynilad" (STM) program, besting entries from low and middle income countries all over the world.
IWA's Project Innovation Awards–Development (PIA-D) recognizes excellent and innovative water and sanitation projects under the Applied Research, Hardware and Software categories. The awarding ceremony was held during the 2nd IWA Development Congress and Exhibition in Kuala Lumpur, Malaysia.
Maynilad's STM won in the "Drinking Water – Software" category for demonstrating practical and integrated development in community participation. Launched in 2009, STM aims to address the legal and financial issues that prevent informal settlers from gaining access to safe, reliable and affordable water. More than 9,000 people from ten marginalized communities now benefit from the Maynilad corporate social responsibility program.
"We are humbled and grateful for the recognition we received. We have always believed that clean, affordable water is a basic human right, and we will continue to do everything we can to provide more poor communities in our concession area with access to our services," said Maynilad president and CEO Ricky P. Vargas.
Another 2,264 households are targeted to become the next beneficiaries of Maynilad's award-winning community development program.

The International Water Association (IWA) is a global network of water professionals that aims to promote the development and implementation of innovative and effective approaches to water management.

IN PHOTO: Maynilad officials as they receive the PIA-D award for the "Samahang Tubig Maynilad" or STM Program: (L-R) Commercial and Marketing head Patrick Gregorio; Quality, Environment, Safety and Health head Francisco Arellano; Corporate Social Responsibility head Nerissa Jose; and Corporate Communications head Cherubim Ocampo-Mojica.