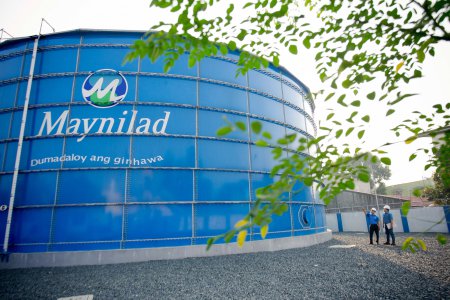 Maynilad Water Services, Inc. (Maynilad) is currently constructing six new reservoirs in various locations within its West Concession area to help improve water supply and pressure for its customers, particularly those living in elevated portions.
These new reservoirs are located in Quezon City, Muntinlupa, Imus City, Cavite City, Bacoor City, and Noveleta in Cavite Province. Once completed around the last quarter of 2017, the impounding facilities will add 23% or 140 million liters per day (MLD) to Maynilad's water-holding capacity. This volume of stored water combined is enough to meet the supply requirements of about 1.3 million Maynilad customers.
"Our goal is to provide 24-hour water supply at a strong pressure for our existing customers, as well as for expansion areas. Building additional reservoirs will help us to attain that goal," said Maynilad President and CEO Ramoncito S. Fernandez. "We will continue improving our water infrastructure to meet the ever-increasing demand of a growing population."
Since 2007, Maynilad has already built 28 reservoirs—up from only eight reservoirs before the West Concession was re-privatized under new owners.
Maynilad is the largest private water concessionaire in the Philippines in terms of customer base. It is the agent and contractor of the Metropolitan Waterworks and Sewerage System (MWSS) for the West Zone of the Greater Manila Area, which is composed of the cities of Manila (certain portions), Quezon City (certain portions), Makati (west of South Super Highway), Caloocan, Pasay, Parañaque, Las Piñas, Muntinlupa, Valenzuela, Navotas and Malabon all in Metro Manila; the cities of Cavite, Bacoor and Imus, and the towns of Kawit, Noveleta and Rosario, all in Cavite Province.