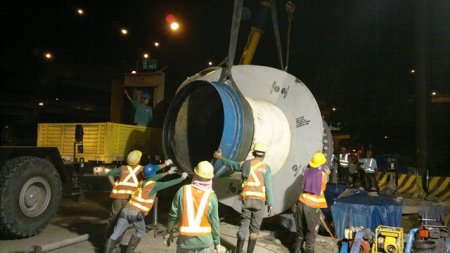 West Zone concessionaire Maynilad Water Services, Inc. (Maynilad) recently completed the interconnection of its new 1600mm pipe along Sales, West Service Road in Paranaque City. The interconnection work became necessary after Maynilad decommissioned the old, leak-prone 900 mm pipeline that was located in the same area.
With the energization of the bigger pipeline, water pressure will improve for some 3,000 households in Sales, Merville, Dona Soledad and Marcelo, all in Paranaque City. The improvement in the pressure will help Maynilad to better detect leaks in the pipeline and reduce water losses.
Since its re-privatization in 2007, Maynilad has repaired over 180,000 leaks in its concession area, enabling it to recover nearly 700 million liters per day (MLD) of potable water. This year, the company allotted over P2 billion for its non-revenue water reduction program, which covers meter and pressure management, active leakage control, primary line assessment, selective pipe replacement, and district metered area management.
Maynilad is the largest private water concessionaire in the Philippines in terms of customer base. It is a concessionaire of the MWSS for the West Zone of the Greater Manila Area, which is composed of the cities of Manila (all but portions of San Andres & Sta. Ana), Quezon City (west of San Juan River, West Avenue, EDSA, Congressional, Mindanao Avenue, the northern part starting from the Districts of the Holy Spirit & Batasan Hills), Makati (west ofSouth Super Highway), Caloocan, Pasay, Parañaque, Las Piñas, Muntinlupa, Valenzuela, Navotas and Malabon, all in Metro Manila; the cities of Cavite, Bacoor and Imus, and the towns of Kawit, Noveleta and Rosario, all in Cavite Province.
Photo: Maynilad workers hard at work in installing a new 1600mm pipe to an existing 900mm one along Sales, West Service Road in the City of Paranaque. The interconnection aims to improve water pressure in select households in the same city.