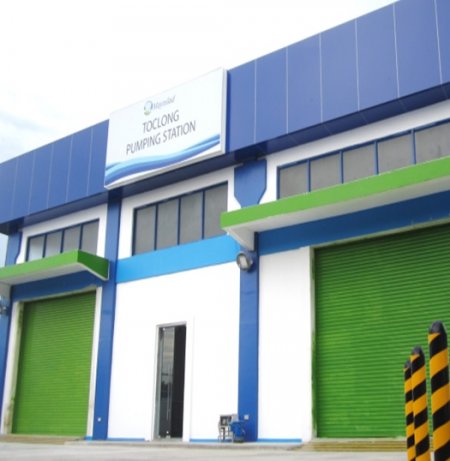 West Zone concessionaire Maynilad Water Services, Inc. (Maynilad) recently completed the construction of its new Toclong Pumping Station and Reservoir in Kawit, Cavite, which is part of the company's program to expand water coverage in the south.
The new ₱466-million facility can store up to 35 million liters of water and is equipped with high-efficiency pumps to increase water pressure for some 19,000 households in Cavite Province, particularly the municipalities of Noveleta and Rosario and the cities of Cavite and Kawit.
The new reservoir will enhance Maynilad's water-holding capacity, allowing it to store water during non-peak hours and bring the stored water to customers during peak demand, especially to elevated areas. The Toclong Pumping Station and Reservoir is expected to start operations by September 2016.
"Maynilad currently has about 800,000 customers in Cavite, but there are still a lot of people in this area who are not yet connected to our network. Building new pumping stations and reservoirs will enable us to bring potable surface water to more areas in Cavite, where we hope to end communities' reliance on groundwater supply," said Maynilad president and chief executive officer Ramoncito S. Fernandez, adding that over-extraction of groundwater has a negative impact on the environment.
With the completion of the Toclong Pumping Station and Reservoir, Maynilad now has 27 pumping stations and 26 reservoirs located in strategic locations throughout its West concession area—up from only seven operational pumping stations and seven reservoirs in 2006 before the company was re-privatized.
Maynilad is spending some P 1 billion this year for the construction, upgrade and rehabilitation of pumping stations and reservoirs. The water company is set to build these new facilities in North Caloocan and Cavite.
Maynilad is the largest private water concessionaire in the Philippines in terms of customer base. It is the concessionaire of the MWSS for the West Zone of the Greater Manila Area, which is composed of the cities of Manila (all but portions of San Andres & Sta. Ana), Quezon City (west of San Juan River, West Avenue, EDSA, Congressional, Mindanao Avenue, the northern part starting from the Districts of the Holy Spirit & Batasan Hills), Makati (west of South Super Highway), Caloocan, Pasay, Parañaque, Las Piñas, Muntinlupa, Valenzuela, Navotas and Malabon all in Metro Manila; the cities of Cavite, Bacoor and Imus, and the towns of Kawit, Noveleta and Rosario, all in Cavite Province.