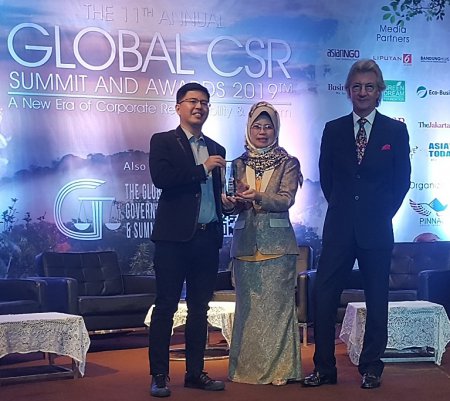 West Zone concessionaire Maynilad Water Services, Inc. (Maynilad) was recently recognized for its social enterprise programs during the 11th Annual Global CSR (Corporate Social Responsibility) Summit and Awards held in Sarawak, Malaysia.
The company won a Platinum Award under the "Best Community Program" category for its "Water-centric Social Enterprise Programs," covering initiatives such as Sining Ipo, which engages the Dumagats of the Ipo watershed in environment conservation efforts through art; Kapwa, a group of women in Tondo which Maynilad organized into a water cooperative, and later trained to produce home and personal care products; and Green Badge, which trained another water cooperative in Quezon City to upcycle old uniforms into rebadged shirts and other items for disaster survivors.
These Maynilad-established community businesses were recognized as exemplary capacity-building programs, besting other countries that participated in the same category. Maynilad is one of only two Filipino companies awarded in this year's Global CSR Awards.
"Maynilad implements CSR initiatives that not only provide water access to the marginalized sector, but also generate livelihood and promote empowerment. This is part of our 'higit sa tubig ang aming serbisyo' promise, and we are truly honored to have been given this recognition by the Global CSR Awards," said President and CEO Ramoncito S. Fernandez.
The Global CSR Awards—Asia's most prestigious recognition awards program for CSR—recognizes outstanding and innovative programs that demonstrate a company's leadership, sincerity and commitment in incorporating ethical values, compliance with legal requirements, and respect for individuals, communities and the environment in the way they do business.
Maynilad is the largest private water concessionaire in the Philippines in terms of customer base. It is the agent and contractor of the Metropolitan Waterworks and Sewerage System (MWSS) for the West Zone of the Greater Manila Area, which is composed of the cities of Manila (certain portions), Quezon City (certain portions), Makati (west of South Super Highway), Caloocan, Pasay, Parañaque, Las Piñas, Muntinlupa, Valenzuela, Navotas and Malabon all in Metro Manila; the cities of Cavite, Bacoor and Imus, and the towns of Kawit, Noveleta and Rosario, all in Cavite Province.
PHOTO CAPTION:
Maynilad's Advocacy Head Rosmon Tuazon (left) receive the company's "Best Community Program Platinum Award" from Malaysia's Minister for Welfare, Community Welfare, Women, Family and Childhood Development YB Dato Sri Hajjah Fatima Abdullah (center) and Global CSR Summit & Awards 2019 Director, Speaker and Mentor Dr. Martin Blake.