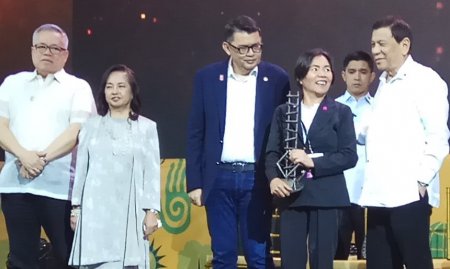 West Zone concessionaire Maynilad Water Services, Inc. (Maynilad)'s community partner Lydia Codiñera, president of the Samahang Tubig Maynilad (STM), was recently recognized by Go Negosyo as one of this year's Inspiring Filipina Entrepreneurs.
President Rodrigo R. Duterte, together with presidential adviser for entrepreneurship and Go Negosyo founder Joey Concepcion and Trade Secretary Ramon Lopez, honored 20 Filipina entrepreneurs during Go Negosyo's 10th Filipina Entrepreneur Summit, which coincided with International Women's Month.
Under the micro business category, Codiñera was awarded for pioneering the STM community in Tondo, Manila, which enabled some 1,000 urban poor residents to have water access and eventually establish a thriving business where Tondo mothers produce and sell home care products called "Kapwa".
"Our warmest congratulations go out to Aling Lydia, whose iron resolve and kind heart helped Maynilad to rally the urban poor of Tondo and establish a community water system. Aling Lydia's accomplishment is proof that marginalized communities, if given the necessary support, can learn to help themselves and be a positive force for society," said Maynilad President and CEO Ramoncito S. Fernandez.
Maynilad launched STM in 2009 so it could provide informal settlers and low-income families in its concession area with safe, affordable water. To date, about 3,000 households in 13 marginalized communities within the West Zone have benefitted from STM—generating savings for its beneficiaries, improving their sanitation conditions, and empowering them through values formation, skills training, and livelihood components of the program.
PHOTO CAPTION:
Lydia Codiñera, president of Samahang Tubig Maynilad in Tondo, Manila, receives Go Negosyo's Inspiring Filipina Entrepreneur trophy from President Rodrigo Duterte (rightmost). With them are (from left) Trade Secretary Ramon Lopez, former president Gloria Macapagal-Arroyo, and Presidential adviser for entrepreneurship and Go Negosyo founder Joey Concepcion.