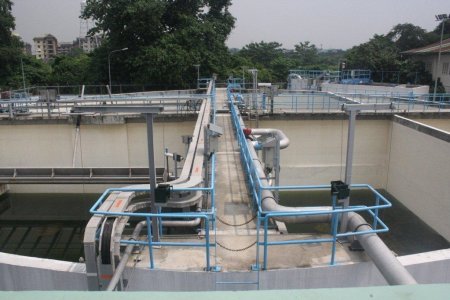 West Zone concessionaire Maynilad Water Services, Inc. (Maynilad) recently commissioned three new Sewage Treatment Plants (STPs) in Quezon City. These facilities can treat up to 29,800 cubic meters per day (CMD) of wastewater, which would benefit 62,130 households in the area.
Located in Bagbag, Kapiligan and Bahay Toro, the new STPs will improve sewerage services for more than 267,200 people in Quezon City and help clear the San Juan River Basin, which empties into the Manila Bay.
Maynilad adopted varied wastewater treatment technologies that enabled it to build these STPs on a small lot, given the dense population in the area. These technologies provide high-quality treatment to ensure that the wastewater discharged conforms to environmental standards set by the Department of Environment and Natural Resources.
The company aims to construct a total of 15 STPs in the San Juan River Basin area with a combined capacity of around 72,000 CMD, benefiting more than 550,000 people. Of these 15 STPs, 11 are now fully operational (excluding Bagbag, Kapiligan and Bahay Toro STPs).
"We are accelerating the construction of new STPs and conveyance systems, as this will enable us to expand our sewerage coverage in the West Zone. With these facilities in place, the health of our customers and that of the environment will be better protected," said Maynilad President and CEO Ricky P. Vargas.
Seven more STPs with a combined capacity of 424,500 CMD and serving around 2,069,000 people, and one 250-CMD Septage Treatment Plant, will also be built in other areas of the West Zone by 2016.
Maynilad is the largest private water concessionaire in the Philippines in terms of customer base. It is an agent and contractor of the Metropolitan Waterworks and Sewerage System (MWSS) for the West Zone of the Greater Manila Area, which is composed of the cities of Manila (certain portions), Quezon City (certain portions), Makati (west of South Super Highway), Caloocan, Pasay, Parañaque, Las Piñas, Muntinlupa, Valenzuela, Navotas and Malabon all in Metro Manila; the cities of Cavite, Bacoor and Imus, and the towns of Kawit, Noveleta and Rosario, all in Cavite Province.
IN PHOTO: The Bagbag Sewage Treatment Plant (STP) is just one of three STPs in Quezon City recently commissioned by Maynilad. The company already has 11 fully operational STPs in the San Juan River Basin area that reduce pollution loading in Manila Bay.