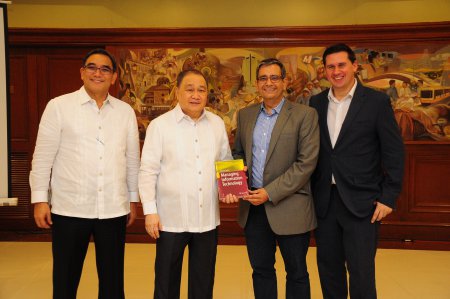 Dr. Francisco "Kiko" C. Castillo (3rd from left), Chief Information Officer (CIO) of Maynilad Water Services, Inc. (Maynilad), recently launched "Managing Information Technology", a book for IT professionals on how to set up, organize and properly manage an IT Department, based on Castillo's 25 years of experience in the IT field.
Castillo, two-time "ASEAN CIO of the Year" awardee (2013 and 2016), has been instrumental in transforming Maynilad's IT system, which now enables more accurate data capture and reporting, improved data storage, and enhanced efficiencies in business processes. Maynilad's IT Division has ISO/IEC 20000-1:2011 certification, proving that the company meets international standards for IT service management systems.
With Castillo during the book launch are (from left) Maynilad President and CEO Ramoncito S. Fernandez, Maynilad chairman Manuel V. Pangilinan, and Meralco Chief Technology Advisor Gavin D. Barfield.