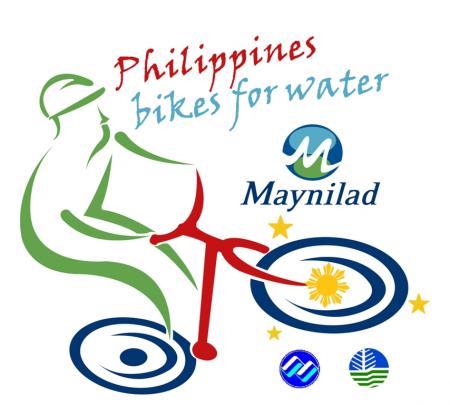 After championing the Philippines Walks for Water during World Water Day, West Zone concessionaire Maynilad Water Services, Inc. (Maynilad) is continuing its advocacy by championing the Philippines Bikes for Water advocacy.  The initiative is supported by the Department of Environment and Natural Resources (DENR) and the Metropolitan Waterworks and Sewerage System (MWSS).
The Philippines Bikes for Water will be carried by Le Tour de Filipinas — the multi-stage cycling event certified by the International Cycling Union – on April 16 to 19.  It will feature seven international teams and the best local riders in the country.   The event will take the race from Manila, Balanga (Bataan), Iba (Zambales), Lingayen (Pangasinan), and all the way to Baguio (Benguet).
"Maynilad advocates the Philippines Bikes for Water to raise awareness for the imperative and compelling need of 16 million Filipinos who still don't have convenient access to safe, reliable and affordable water," said Ricky P. Vargas, Maynilad's President and CEO.
Patricia Bermudez-Hizon, Maynilad Head for Advocacy and Marketing, expounded that Maynilad seeks to protect water sources and prevent environmental degradation.  "We are working to ensure that natural sources are protected, people are educated, and local government gets adequate support — particularly in terms of wastewater treatment to prevent contamination and closing of deep-wells — and proper management of the use of surface water to prevent environmental deterioration," said Bermudez-Hizon.
Covering over 500 kilometers, Bermudez-Hizon believes that the Philippines Bikes for Water advocacy would be an effective avenue to push for sustained access to clean water.  "Even on a local level, we want to drive the importance and urgency of the need for potable water.  This is for our children, and the future of our nation," she added.
Maynilad is owned and managed by DMCI-MPIC Water Company, Inc. (DMWCI), a joint venture between Metro Pacific Investments Corporation (MPIC) and DMCI Holdings, Inc. (DMCIHI).