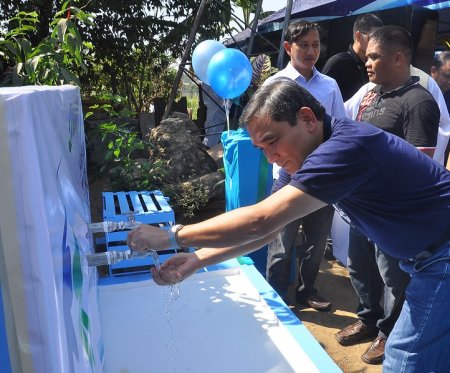 Maynilad Water Services, Inc. (Maynilad) President and CEO Ramoncito S. Fernandez celebrated his 60th birthday by inaugurating a project that will give water access to a poor community in Quezon City.
Fernandez launched Samahang Tubig Maynilad (STM), the company's flagship "water for the poor" project, at Riverview in Barangay Batasan Hills, which is home to some 60 families who previously did not have access to potable water.
The STM program seeks to address the issues that prevent communities of informal settlers from gaining access to potable and affordable water. Under this program, Maynilad organizes communities of informal settlers into cooperative-based organizations and gives them values formation and skills training so they can manage the public faucets installed in their area.
"We organize informal settler communities and grant them ownership of their own water system so they are empowered and can have access to clean water," said Fernandez.
The Riverview-STM is Maynilad's 13th STM to date, with others located in Manila, Caloocan, Malabon, and Quezon City. Since its inception in 2009, Maynilad's STM program has benefitted an estimated 19,400 people throughout the west concession area. The cheaper water provided by the STM translates to monthly savings of P300-500 per household.
Maynilad is the largest private water concessionaire in the Ph ilippines in terms of customer base. It is the agent and contractor of the Metropolitan Waterworks and Sewerage System (MWSS) for the West Zone of the Greater Manila Area, which is composed of the cities of Manila (certain portions), Quezon City (certain portions), Makati (west of South Super Highway), Caloocan, Pasay, Parañaque, Las Piñas, Muntinlupa, Valenzuela, Navotas and Malabon all in Metro Manila; the cities of Cavite, Bacoor and Imus, and the towns of Kawit, Noveleta and Rosario, all in Cavite Province.
PHOTO CAPTION: Maynilad President and CEO Ramoncito S. Fernandez washes his hands using the new public faucet Maynilad installed for the urban poor community at Riverview, Batasan Hills, on the occasion of his 60th birthday, as part of the company's flagship Samahang Tubig Maynilad "water for the poor" project.