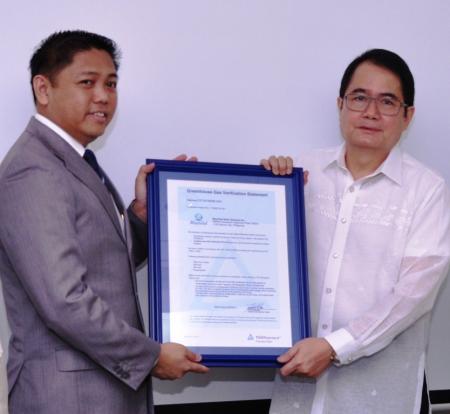 Maynilad Water Services, Inc. (Maynilad) recently became the first company in the Philippines to receive the ISO 14064:2006 certification for the verification of its greenhouse gas (GHG) or carbon footprint quantification and reporting initiative from TUV Rheinland.
Maynilad President and CEO Ricky Vargas lauds the accomplishment.  "We are very proud to be the first in the country to get this ISO certification.  This is a testament to Maynilad's commitment to environmental preservation."
ISO 14064:2006 is the international standard for GHG accounting and verification. The standards define international best practice in the management, reporting and verification of greenhouse gas data.    These greenhouse gases are the precursors of global climate change.
Vargas explained that the inventory is crucial since it is the initial step in reducing a company's carbon footprint.  "In order to become a greener company, we have to first establish our baseline or starting point. From there we can determine how successful we are in reducing our carbon footprint," said Vargas.
Carbon footprint is defined as the total set of greenhouse gas emissions produced by an entity (organization/product/person) – from sourcing, to production, to consumption.
This inventory will define Maynilad's management plan to improve energy utilization and reduce its power consumption.  With this, Maynilad will also lower its air pollutant generation, and in doing so, ultimately cut its greenhouse gases emission.
Maynilad's GHG inventory was undertaken in response to the government's advocacy to reduce carbon emissions. Based on the completed GHG inventory, around 91% of the water company's greenhouse gas emissions come from purchased electricity used to power its booster and pumping stations.  Maynilad is now in the process of developing a company-wide roadmap towards reducing emissions.
Maynilad is the largest private water concessionaire in the Philippines in terms of customer base.  It is a concessionaire of the Metropolitan Waterworks and Sewerage System (MWSS) for the West Zone of the Greater Manila Area.  Maynilad is owned and managed by DMCI-MPIC Water Company, Inc. (DMWCI), a joint venture between Metro Pacific Investments Corporation (MPIC) and DMCI Holdings, Inc. (DMCIHI).
IN PHOTO:
Maynilad receives the first ISO 14064:2006 certification in the Philippines that would pave the wave for the company's initiatives to reduce its carbon footprint.  In photo are TUV Rheinland Phils. COO Tristan Arwen Loveres and Maynilad President and CEO Ricky Vargas.