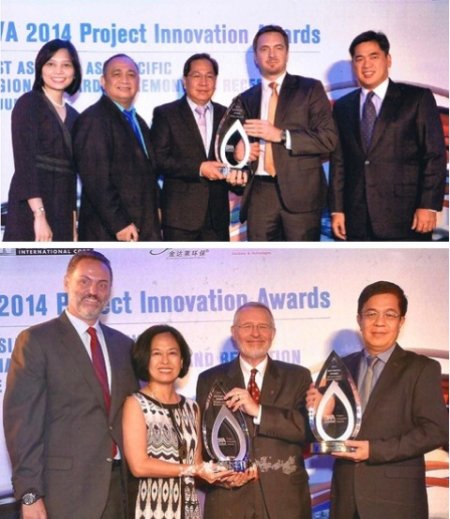 West Zone concessionaire Maynilad Water Services, Inc. (Maynilad) bagged two awards in the Project Innovation Awards (Asia Pacific) of the International Water Association (IWA) for its compact sewage treatment plants and successful non-revenue water (NRW) management program.
The Project Innovation Awards is a prestigious international competition that recognizes innovation and excellence in water engineering projects around the world. Maynilad is the lone awardee from the Philippines.
Maynilad and its technology partner, OTV France (Philippines), won in the Small Projects Category for the San Antonio and Del Monte Sewage Treatment Plants (STP), which use a combination of compact wastewater treatment steps to be able to operate on small lots.
In partnership with Miya of Arison Group, Maynilad also won in the Operations/Management Category for its highly effective NRW program, which resulted in the recovery of over 700 million liters per day of potable water in just seven years.
"Our continuing goal is to innovate the way we operate so we can deliver better, more cost-efficient services. Receiving this kind of international recognition will inspire us to persist even more for the sake of our customers and our country," said Maynilad President and CEO Ricky P. Vargas.
Based in the United Kingdom, the IWA is a global network of over 10,000 water professionals who collaborate to promote the development and implementation of innovative and effective approaches to water management.
Maynilad is the largest private water concessionaire in the Philippines in terms of customer base. It is the concessionaire of the MWSS for the West Zone of the Greater Manila Area, which is composed of the cities of Manila (certain portions), Quezon City (certain portions), Makati (west of South Super Highway), Caloocan, Pasay, Parañaque, Las Piñas, Muntinlupa, Valenzuela, Navotas and Malabon all in Metro Manila; the cities of Cavite, Bacoor and Imus, and the towns of Kawit, Noveleta and Rosario, all in Cavite Province.

PHOTOS:
(Top photo, left to right) From Maynilad, Corporate Communications head Cherubim Mojica, Corporate Quality, Environment, Safety and Health head Francisco Arellano and Wastewater Management Head Antonio Garcia receive the IWA Project Innovation Award. Representing OTV France (Philippines) is Business Development Manager Patrick Ledonio (rightmost).

(Bottom photo, left to right) Miya Regional Director for Asia Roland Liemberger and Miya Regional Director for Business Development in Asia Atty. Mai Flor, IWA President Glen Daigger and Maynilad CNRW head Engr. Irineo L. Dimaano during the awarding ceremony.