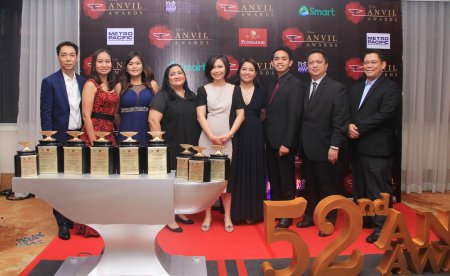 West Zone concessionaire Maynilad Water Services, Inc. (Maynilad) won nine awards (five Golds and four Silvers) during the recently concluded 52nd Anvil Awards held at the Shangri-La Hotel in Makati City.
Gold Anvil Awards were given to Maynilad's "Ginhawa Gardening" initiative under the Public Relations (PR) Programs Division, and to its digital service platform "My Water Bill: The Maynilad Bills Presentment Program" and three videos on El Niño, Wastewater Treatment, and Water Bill Explainer under the PR Tools Division.
Maynilad was also given Silver Awards for its company newsletter ("Ripples"), as well as its PR Programs pertaining to the World Water Day Awards, El Niño Information Campaign, and Wastewater Education Module for high school students.
"We are truly proud of our various communications initiatives, and this recognition from industry experts is an affirmation of the success of our endeavors. Of this, we are very grateful," said Maynilad President and CEO Ramoncito S. Fernandez.
The Anvil Awards, organized by the Public Relations Society of the Philippines (PRSP), is the symbol of excellence in public relations in the Philippines. It awarded by a distinguished multi-sectoral jury to outstanding public relations programs and tools designed and implemented in the past year.
IN PHOTO: Maynilad representatives from its communications and operations units receive the company's nine Anvil Awards (from left) Noel Diloy, Abigail Ho, Rica Matias, Liza Reyes, Jennifer Rufo, Anna Herrera, Dinno Coligado, Edmundo Perez III, and Normen Kahulugan.