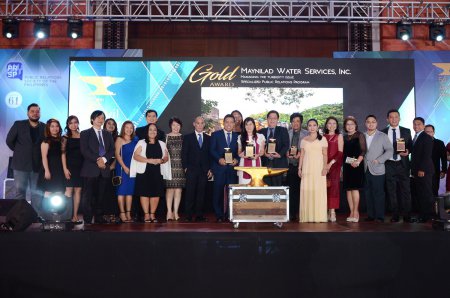 West Zone concessionaire Maynilad Water Services, Inc. (Maynilad) won four Gold awards and one Silver award at the 54th Anvil Awards held recently at the Marriot Grand Ballroom in Pasay City.
Gold Anvil Awards were given for its "#MayniLOVE for the Win: A Campaign to Manage the Traffic Impact of Maynilad Projects", its "Managing the Turbidity Issue" communication initiative, and its "Central Non-Revenue Water Point System" and "CineNRW" employee engagement programs.
Maynilad also won a Silver Anvil Award for its "Billing Complaint Preventive Measure" program, which is the company's move to reduce billing complaints and enhance customer experience.
"We are extremely grateful for this recognition from the Public Relations Society of the Philippines. This will motivate us to continue developing communications programs that will help not only our company but the people we serve," said Maynilad President and CEO Ramoncito S. Fernandez.
The Anvil Awards, touted as the "Oscars of Public Relations", is organized by the Public Relations Society of the Philippines and is the symbol of excellence in public relations in the country. It is awarded by a distinguished multi-sectoral jury to outstanding PR programs and tools designed and implemented in the past year.
IN PHOTO: The Maynilad team receives five Anvil Awards (four golds and one silver) from the Public Relations Society of the Philippines for its various communications programs implemented in the past year. The team was led by Customer Experience and Retail Operations head Christopher Lichauco, Water Supply Operations head Ronaldo Padua, Program Management head Yolanda Lucas, and Central Non-Revenue Water head Irineo Dimaano.