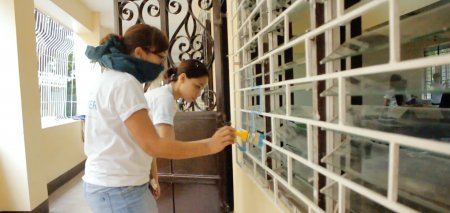 West Zone concessionaire Maynilad Water Services, Inc. (Maynilad) sent employee-volunteers to refurbish classrooms, as well as upgrade water and sanitation facilities, in more than 50 public schools throughout its concession area, in support of this year's Brigada Eskwela program of the Department of Education (DepEd).
The water company kicked off its participation with the installation of a new drink-wash station and 20 bidets at the Parañaque National High School. Its employee-volunteers also replaced busted faucets and flushes so these will be operational once classes start. This year, Maynilad will install 50 more drink-wash stations in other schools within the West Zone.
Maynilad also donated educational signages, school supplies, and 14,200 pieces of bottled water to the more than 50 public schools it helped renovate, redecorate, and clean. During the Brigada Eskwela activities, the company put up water stations for the use of other volunteers, composed of local government personnel, civil society groups, and school officials.
"Access to clean water is essential so that children will have an environment that is conducive to learning. We congratulate DepEd on the success of its Brigada Eskwela program, and we are happy to be a regular partner of this noble endeavor," said Maynilad President and CEO Ramoncito S. Fernandez.
Maynilad is a member of DepEd's Oplan Balik Eskwela Command Conference, an inter-agency group formed to ensure an orderly school opening.
PHOTO CAPTION: Maynilad employee-volunteers lend a hand to refurbish more than 50 public schools within its West concession area, in support of DepEd's Brigada Eskwela 2016.