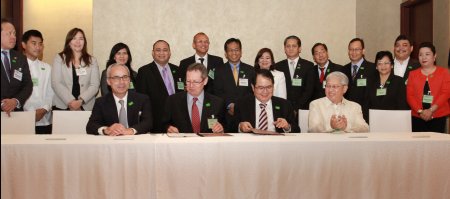 Maynilad Water Services, Inc. (Maynilad) awards the construction of its P1.044-billion sewage treatment plant (STP) in Cupang, Muntinlupa City, to the J.E. Manalo-Degremont Consortium. J.E. Manalo will provide the civil works while international water technology provider Degremont will provide the technology for the facility.
Signing the Memorandum of Agreement covering this award are (from left, seated) Suez Environnement Asia Water Division CEO Francois Fevrier, Suez Environnement Asia President Stephen Clark, Maynilad President and CEO Ricky Vargas, and Maynilad Chief Operating Officer Herbert Consunji.
The Cupang STP is expected to provide wastewater services for over 58,000 households from Barangays Alabang, Bayanan, Buli, Cupang, Putatan and Sucat in Muntinlupa City. The facility is designed to treat up to 46 million liters of wastewater per day, and will help clear the Laguna Lake.
It is one of six wastewater facilities funded by Maynilad's $137.5-million loan from the World Bank for the development and improvement of wastewater services in the West Zone. Other facilities to be funded by this loan are the construction of new STPs in Pasay and Valenzuela, construction of a South Septage Treatment Plant, rehabilitation of the Alabang STP (completed in 2013), and the recently inaugurated Talayan STP.