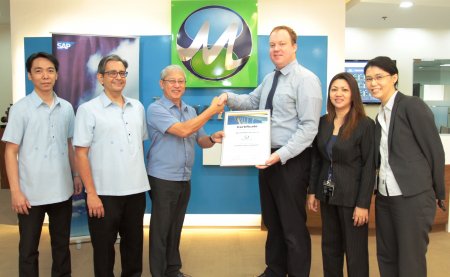 West Zone concessionaire Maynilad Water Services, Inc. (Maynilad) has received the SAP Customer Center of Excellence certification for its efficient business processes, making it one of only two Philippine companies to currently hold this distinction.
SAP SE (Systems, Applications & Products in Data Processing) is the market leader in enterprise application software, providing business solutions to more than 263,000 companies around the world.
"This certificate proves that Maynilad is following international best practices in handling operations and maintaining SAP systems. Our commitment to enhance operational efficiency stems from our drive to be more responsive to the needs of our customers," said Maynilad President and CEO Ricky P. Vargas.
IN PHOTO: SAP Active Global Support's Country Support Manager Andreas Klingel (3rd from right) awards to Maynilad Chief Operating Officer Herbert M. Consunji (3rd from left) a certificate that acknowledges Maynilad as a SAP Customer Center of Excellence. With them in the photo are (L-R) Maynilad Information Systems Head Noel Diloy, Maynilad Chief Information Officer Dr. Francisco Castillo, INDRA Outsourcing Project Manager Korina Monoso, and SAP Active Global Support-Top Accounts Active Support Advisor Wie Jun Chan.