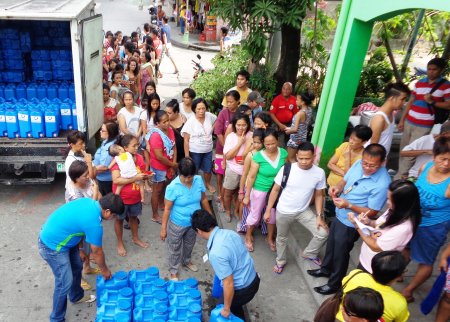 West Zone concessionaire Maynilad Water Services, Inc. (Maynilad) quickly extended assistance to families who lost their homes in the fire that razed 300 houses last February 16, 2015 in Barangay 201, Merville Access Road, Pasay City.
Maynilad distributed 300 pieces of five-gallon water jugs to the affected families and stationed a 10-cubic meter (10,000-liter) water tanker to be used to refill water containers.
"We are here to extend our assistance because we understand that having access to clean water is vital, especially during times of calamity," said Maynilad President and CEO Ricky P. Vargas.
Maynilad is owned and managed by DMCI-MPIC Water Company, Inc. (DMWCI), a joint venture between Metro Pacific Investments Corporation, DMCI Holdings, Inc. and Marubeni Corporation.
PHOTO: Maynilad personnel distribute water jugs to families affected by the February 16 fire that hit Barangay 201 in Pasay City.