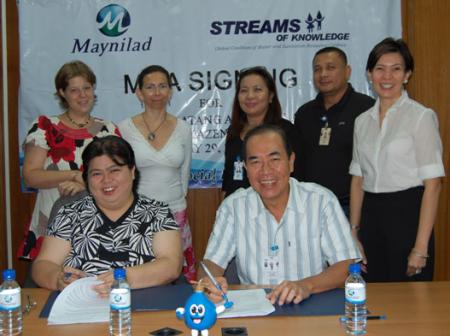 Maynilad, the private water concessionaire for the West Zone, will partner with non-government organization Streams of Knowledge, to provide around 900 households in the blighted areas of Pitong Gatang and Davila in Sipac Almazen, Navotas, with safe, potable and affordable water.
Under a Memorandum of Agreement, Maynilad will install a bulk water supply system for the community and Streams of Knowledge will manage and operate the internal water system.
Signing the Memorandum of Agreement in the photo are Streams of Knowledge executive secretary Aurora Villaluna and Maynilad president Rogelio Singson. Witnessing the signing are (from left) Christine Balsan and Valerie Dumans of Tubig Pagasa, a French NGO based in the Philippines; Maynilad Corporate Social Responsibility head Nerissa Jose, Malabon-Navotas Business Area head Jun Domingo, and Legal and Regulatory Affairs head Marivic Espiritu.