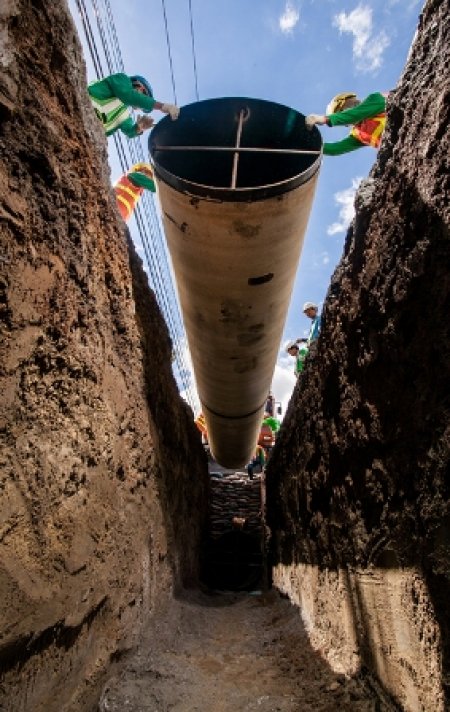 West Zone concessionaire Maynilad Water Services, Inc. (Maynilad) will invest approximately P7.63 billion this year to improve and extend its services in Parañaque, Muntinlupa, Las Piñas and Cavite.
Almost P4.1 billion has been earmarked for wastewater management projects in the south, such as the building of Sewage Treatment Plants in Pasay and Muntinlupa, and conveyance systems in Muntinlupa and Parañaque.
Some P2.4 billion will be used to extend the company's primary, secondary and tertiary water pipelines in Las Piñas, Muntinlupa, Parañaque and portions of Cavite.
Meanwhile, P240 million will be used for projects designed to improve water availability and pressure, while another P194 million will go to water loss reduction in Bacoor, Muntinlupa and Las Piñas.
Maynilad has also set aside P700 million to enhance the treatment process and expand the capacity of Maynilad's Putatan Water Treatment Plant by 50 million liters per day (MLD).
"Our continued investments in these areas have allowed us to make significant changes in the lives of our customers in the south. They no longer have to rely on unsafe and expensive water deliveries from vendors like they used to some six years ago," said Maynilad President and CEO Ricky P. Vargas.
Maynilad customers in the south rose by 230% from only 79,861 accounts at the end of 2006 to 263,231 water service connections by the end of 2012. The dramatic increase has been due to the completion of major primary pipelaying projects along Aguinaldo Highway, Coastal Road, Daang Hari Highway, Molino Boulevard, P. Burgos Avenue and Tirona Highway.
All of Maynilad's customers in Parañaque, Las Piñas, Muntinlupa and Cavite now have 24-hour water supply with a minimum pressure of at least 7 pounds per square inch (psi)—a dramatic increase from 2006 when only 36% had 24-hour water supply and only 43% received their supply at sufficient pressure.
Maynilad is the largest concessionaire in the Philippines in terms of customer base. In 2012, it received the Global Honor Award from the International Water Association of the United Kingdom, for transforming water services in the West Zone.
The West Zone of the Greater Manila Area, which is composed of the cities of Manila (all but portions of San Andres & Sta Ana), Quezon City (west of San Juan River, West Avenue, EDSA, Congressional, Mindanao Avenue, the northern part starting from the Districts of the Holy Spirit & Batasan Hills), Makati (west of South Super Highway), Caloocan, Pasay, Parañaque, Las Piñas, Muntinlupa, Valenzuela, Navotas and Malabon all in Metro Manila; the cities of Cavite, Bacoor and Imus, and the towns of Kawit, Noveleta and Rosario, all in the Cavite Province.