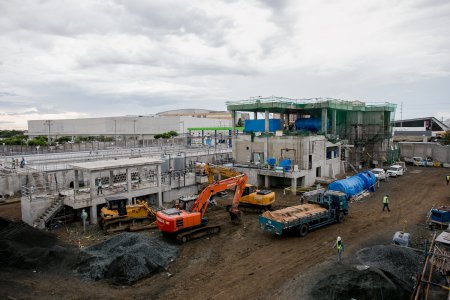 West Zone concessionaire Maynilad Water Services, Inc. (Maynilad) is allotting almost P1.7 billion this year for wastewater projects to increase sewerage coverage and maintain the reliability of the wastewater network.
Of the said amount, about P1.4 billion will be used to lay some 35 kilometers of conveyance systems in Las Piñas and Muntinlupa. These systems will catch wastewater generated by households and convey it for treatment to Maynilad's three Sewage Treatment Plants (STP) in the area, which have a combined treatment capacity of 148 million liters of wastewater per day (MLD) serving about one million residents when fully completed.
Moreover, P260 million from the P1.7 billion wastewater Capex budget in 2018 has been set aside for sewer network repairs and installation of new sewer service connections in the west concession area.
The remaining P70 million of the P1.7-billion budget will go to the maintenance and operations of wastewater facilities to ensure the reliability of Maynilad's sewer network.
"It is a challenge for us to facilitate the completion of wastewater projects, given the impact to traffic of laying new conveyance systems. Nonetheless, these projects are important so we can catch harmful effluents before discharge to the environment. We need the support of local government and the communities to accelerate sewerage coverage expansion," said Maynilad President and CEO Ramoncito S. Fernandez.
Aside from the 2018 wastewater Capex projects, Maynilad is set to complete the construction of a new STP in Parañaque this 2018. Also, the company just recently started commissioning its newest STP located in Pasay City.
Maynilad's wastewater infrastructure network currently includes three septage treatment plants, 19 sewage treatment plants, 40 pumping stations, 22 lift stations, and more than 500 kilometers of sewer lines.
Maynilad is the largest private water concessionaire in the Philippines in terms of customer base. It is the agent and contractor of the Metropolitan Waterworks and Sewerage System (MWSS) for the West Zone of the Greater Manila Area, which is composed of the cities of Manila (certain portions), Quezon City (certain portions), Makati (west of South Super Highway), Caloocan, Pasay, Parañaque, Las Piñas, Muntinlupa, Valenzuela, Navotas and Malabon all in Metro Manila; the cities of Cavite, Bacoor and Imus, and the towns of Kawit, Noveleta and Rosario, all in Cavite Province.
PHOTO CAPTION: Maynilad will invest almost P1.7 billion this year for wastewater projects, which will increase sewerage coverage and maintain the reliability of the wastewater network. In the photo is construction work on the Parañaque Sewage Treatment Plant (STP), the water company's STP to be completed this 2018