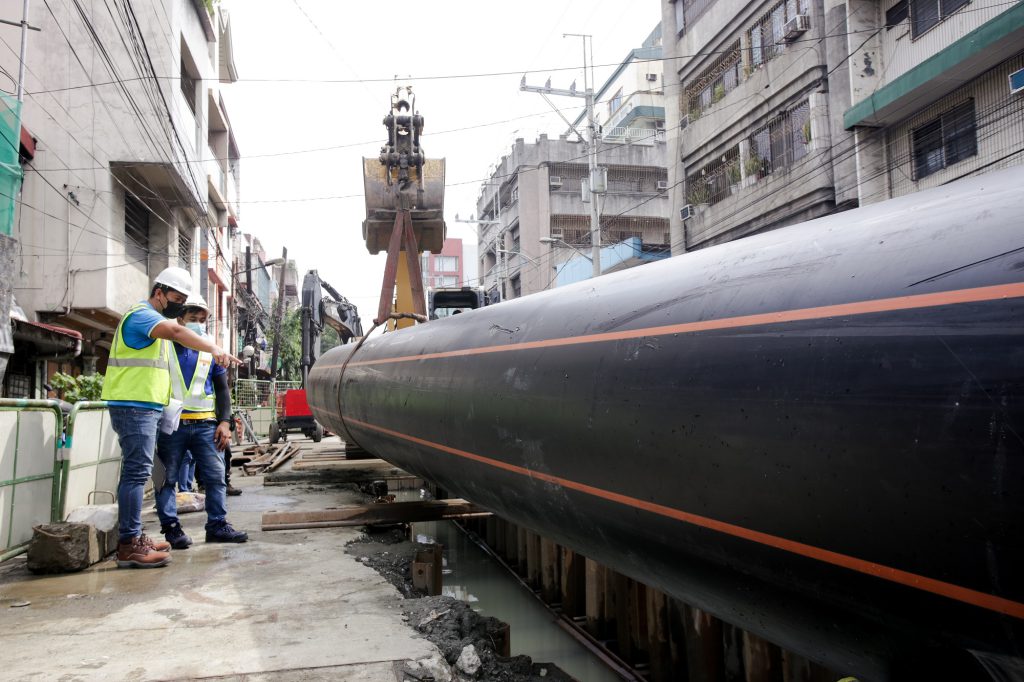 West Zone concessionaire Maynilad Water Services, Inc. (Maynilad) is spending some ₱19 billion over the next five years for the installation of 121 kilometers of new sewer lines to expand sewerage services for its customers.
The new sewer pipelines—to be laid in portions of Manila, Muntinlupa, Valenzuela, Bacoor, Las Piñas, Caloocan, and Quezon City—will catch used water generated by around 2.1 million customers and convey it to Maynilad's Sewage Treatment Plants for proper treatment before discharge to the ecosystem.
"The installation of new sewer lines is part of our effort to protect community health and the environment through proper sewage collection and treatment. We hope for the continued support of the local government units so that we can fast track the implementation of these pipe-laying projects in their area," said Maynilad Chief Operating Officer Randolph T. Estrellado.
To minimize public inconvenience resulting from these pipe-laying activities, Maynilad closely coordinates with the barangays and communities. Affected roads are also immediately restored with temporary asphalt pavement to make the roads passable to motorists. Moreover, Maynilad regularly monitors its contractors to ensure that their work sites are fully enclosed by board-up barricades and have appropriate lighting and traffic/warning signs.
Maynilad is currently operating and maintaining 625 kilometers of sewer lines, and 22 wastewater treatment facilities that have a combined capacity to treat around 664 million liters of wastewater per day.
Maynilad is the largest private water concessionaire in the Philippines in terms of customer base. It is the concessionaire of the Metropolitan Waterworks and Sewerage System (MWSS) for the West Zone of the Greater Manila Area, which is composed of the cities of Manila (certain portions), Quezon City (certain portions), Makati (west of South Super Highway), Caloocan, Pasay, Parañaque, Las Piñas, Muntinlupa, Valenzuela, Navotas and Malabon all in Metro Manila; the cities of Cavite, Bacoor and Imus, and the towns of Kawit, Noveleta and Rosario, all in Cavite Province.