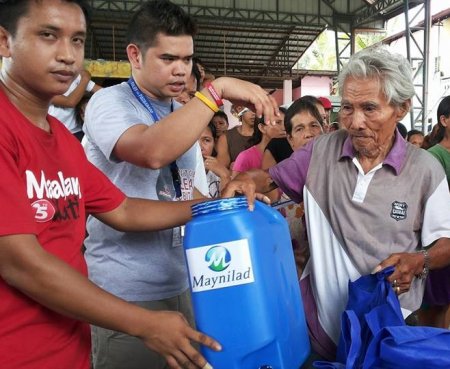 West Zone concessionaire Maynilad Water Services, Inc. (Maynilad) provided potable water for almost 3,000 families whose homes have been flooded following the recent onslaught of monsoon rains in Metro Manila and some parts of Luzon.
Maynilad donated drinking water packed in close to 6,000 units of varied-sized containers (330 ml and 1-liter bottles and 5-gallon jugs) to habagat relief centers in Quezon City, Marikina, Manila, Pampanga and Bataan.
In the photo, a senior resident temporarily sheltered at the San Vicente Elementary School and Gym in Barangay San Vicente, Sto. Tomas, Pampanga, is shown receiving a 5-gallon jug of potable water from Maynilad.
"We know that among the immediate needs of families displaced by calamities is safe, drinking water. Through the Alagang Kapatid Foundation, Maynilad was able to immediately provide aid not only within our concession area but also in other parts of the country," said Maynilad President and CEO Ramoncito S. Fernandez.
The habagat relief efforts were organized by the Alagang Kapatid Foundation in coordination with the Philippine Disaster Resilience Foundation (PDRF).