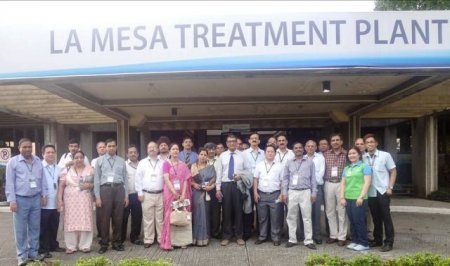 Representatives of the Government of India recently visited West Zone concessionaire, Maynilad Water Services, Inc. (Maynilad), during a study tour training program aimed to enhance their capabilities in managing organizations and expose them to the realities of public-private partnership.
During the tour, the delegates learned about the "Maynilad Water Service Transformation Program," which was launched in 2007 and involved the development and implementation of a holistic innovation strategy that led to the transformation of Maynilad's water system, people, business, customer services and public image.
The Maynilad Water Academy, the first learning institution in the Philippines dedicated to the advancement of the water and wastewater industry, conducted the lecture and facility tour for the visitors.
"We are honored by this opportunity to share our experience with our Indian neighbors. We hope that our experience in transforming the water and wastewater services in the West Zone can help other governments and water operators in providing services to their own constituents," said Maynilad President and CEO Ricky P. Vargas.
The Maynilad Water Academy's goal is to educate students, water professionals and other interested parties on the latest developments and best practices in water resource conservation, water and wastewater management, among others.
Maynilad is the largest private water concessionaire in the Philippines in terms of customer base. It is a concessionaire of the Metropolitan Waterworks and Sewerage System (MWSS) for the West Zone of the Greater Manila Area, which is composed of the cities of Manila (all but portions of San Andres & Sta. Ana), Quezon City (west of San Juan River, West Avenue, EDSA, Congressional, Mindanao Avenue, the northern part starting from the Districts of the Holy Spirit & Batasan Hills), Makati (west of South Super Highway), Caloocan, Pasay, Parañaque, Las Piñas, Muntinlupa, Valenzuela, Navotas and Malabon—all in Metro Manila; the cities of Cavite, Bacoor and Imus, and the towns of Kawit, Noveleta and Rosario—all in Cavite Province.
IN PHOTO: Maynilad Water Academy officers with representatives of the Government of India during a tour of Maynilad's La Mesa Treatment Plants in Quezon City.