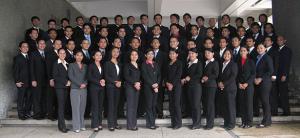 Maynilad, the private water concessionaire for the West Zone, picked Civil Engineering Board topnotcher Man Wai Chua and Chemical Engineering Board second placer Dominic Baylas, together with 60 other licensed engineers to join the company's Cadet Engineer Program.
The young cadet engineers will undergo an extensive and special training program on water and sewerage operations and career development, to prepare them for assuming more challenging roles in the company.
"Under the new Management of Maynilad, we are committed not only in improving the current performance of the organization but also in ensuring that the business will be managed by competent, dedicated and dynamic leaders in the future," Maynilad's Corporate Human Capital and Organization Development (CHCOD) head Roy Evalle said.