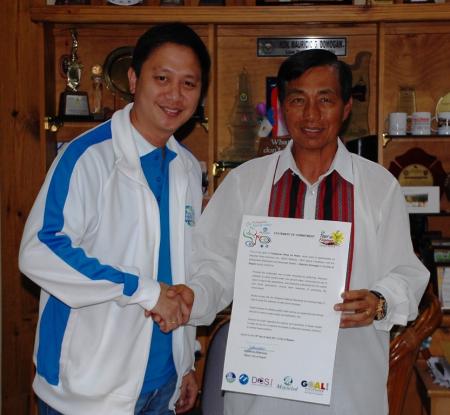 Baguio city Mayor Mauricio Domogan recently signed a Statement of Commitment with Maynilad Water Services, Inc. (Maynilad) to promote the development and responsible use of water.
Under the signed Statement of Commitment, Mayor Domogan will espouse the preferential use of sustainable water resources, conserve the use of water, and preserve watersheds for the current and future generations. The Baguio City mayor also agreed to support local initiatives to improve water supply and distribution in the area.
Patrick Gregorio, Maynilad's Head of Commercial and Marketing, said, "We are proud to have Mayor Domogan as our ally in our campaign for bringing safe, reliable, and affordable water to the Filipino.  Given the chance, we are eager to share our proficiency and resources to help the 16 million Filipinos who still do not have access to clean water to have the supply they need."
Maynilad is the largest private water concessionaire in the Philippines in terms of customer base.  It is owned by DMCI-MPIC Water Company, Inc. (DMWCI), a joint venture between Metro Pacific Investments Corporation (MPIC) and DMCI Holdings, Inc. (DMCIHI).
IN PHOTO: Maynilad SVP Patrick Gregorio (left) with Baguio City Mayor Mauricio Domogan (right) and the signed Statement of Commitment.