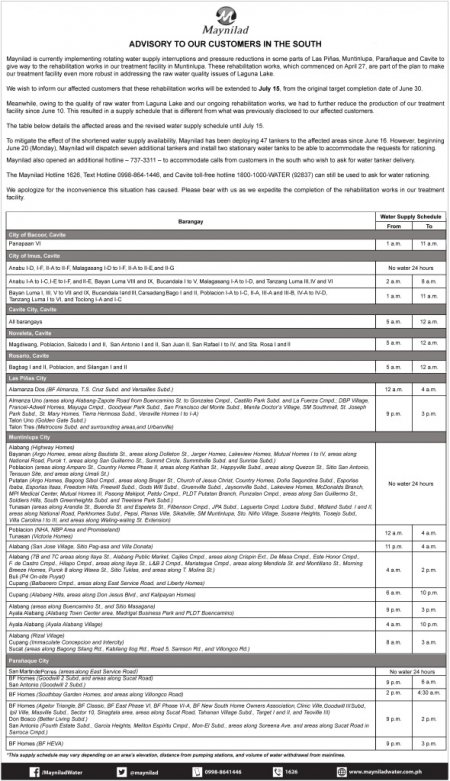 Maynilad is currently implementing rotating water supply interruptions and pressure reductions in some parts of Muntinlupa, Las Piñas, Parañaque and Cavite to give way to the rehabilitation works in our treatment facility in Muntinlupa. These rehabilitation works, which commenced on April 27, are part of the plan to make our treatment facility even more robust in addressing the raw water quality issues of Laguna Lake.
We wish to inform our affected customers that these rehabilitation works will be extended to July 15, from the original target completion date of June 30.
Meanwhile, owing to the quality of raw water from Laguna Lake and our ongoing rehabilitation works, we had to further reduce the production of our treatment facility since June 10. This resulted in a supply schedule that is different from what was previously disclosed to our affected customers.
The table below details the affected areas and the revised water supply schedule until July 15.
To mitigate the effect of the shortened water supply availability, Maynilad has been deploying 47 tankers to the affected areas since June 16. However, beginning June 20 (Monday), Maynilad will dispatch seven additional tankers and install two stationary water tanks in Muntinlupa and Cavite to be able to accommodate the requests for rationing.
Maynilad also opened an additional hotline – 737-3311 – to accommodate calls from customers in the south who wish to ask for water tanker delivery.
The Maynilad Hotline 1626, Text Hotline 0998-864-1446, and Cavite toll-free hotline 1800-1000-WATER (92837) can still be used to ask for water rationing.
We apologize for the inconvenience this situation has caused. Please bear with us as we expedite the completion of the rehabilitation works in our treatment facility.