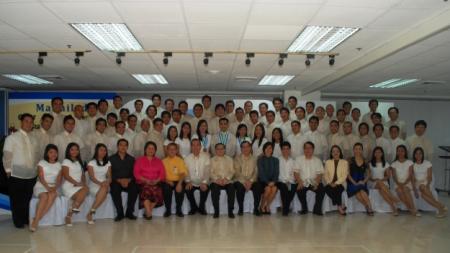 After completing six months of rigorous training under the Maynilad Cadetship Program, 60 licensed engineers formally joined the ranks of Maynilad, the largest private water concessionaire in the country in terms of customer base.
The new batch of Maynilad cadet engineers were carefully selected from thousands of applicants all over the country. They underwent intensive training on water and sewerage utility operation and career development to prepare them for the unique challenges of providing water and wastewater services in the West Zone.
Maynilad Chairman Manuel V. Pangilinan and other top officials of the water firm graced the cadet graduation rites last December. Dr. Rowena Guevara, dean of UP College of Engineering, and Francise Aldrine Uy, dean of the Mapua School of Civil Engineering, were also in attendance.
The cadet engineers will join Maynilad's Central Non-Revenue Water, Business Area Operations, Sewerage and Sanitation, and Technical Operations and Program Management to further hone their technical skills and reinforce the organization's workforce.
The Maynilad Cadetship Program aims to develop young engineers to assume more challenging roles in the company. The program also serves to enhance the technical and business continuity capabilities of Maynilad.
Photo Caption: The new crop of Maynilad engineers are joined by Chairman Manuel V. Pangilinan (seated, 8th from left), other Maynilad, MPIC and DMCI officials, and special guests.