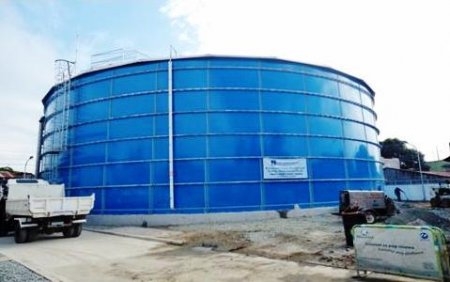 Metro Pacific and DMCI-led Maynilad Water Services, Inc. (Maynilad) recently commissioned two new reservoirs in Caloocan City, to increase water pressure and availability for households and establishments located in elevated portions of Maynilad's Quirino/Roosevelt Business Area.
Located along Magdalena and J.P. Ramoy Streets in Caloocan City, the water reservoirs have a combined storage capacity of 7 million liters and a total project cost of P48 million. With the completion of these new facilities, Maynilad can provide over 53,700 residents with 24-hour water supply at a pressure of at least 16 psi (pounds per square inch).
Before the completion of these projects, residents of Barangays 159, 160, 162 and 163 in Caloocan, and Barangay 164 in Quezon City experienced low water pressure during hours of peak demand. Communities located at lower elevations normally used up most of the supply before it could reach higher areas.
"These new reservoirs will allow us to store more water during off-peak hours, and release the stored water at a time when customers need it most," said by Maynilad CEO and President Ricky Vargas.
Maynilad is the largest private water concessionaire in the Philippines in terms of customer base. It is a concessionaire of the MWSS for the West Zone of the Greater Manila Area, which is composed of the cities of Manila (all but portions of San Andres & Sta. Ana), Quezon City (west of San Juan River, West Avenue, EDSA, Congressional, Mindanao Avenue, the northern part starting from the Districts of the Holy Spirit and Batasan Hills), Makati (west of South Super Highway), Caloocan, Pasay, Parañaque, Las Piñas, Muntinlupa, Valenzuela, Navotas and Malabon—all in Metro Manila; the cities of Cavite, Bacoor and Imus, and the towns of Kawit, Noveleta and Rosario—all in Cavite Province.
CAPTION: Maynilad's new reservoir at Baesa, Quezon City