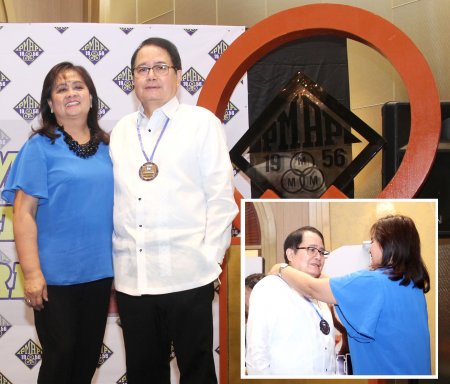 Maynilad Water Services, Inc. (Maynilad) President and CEO Ricky P. Vargas was recently conferred a Diplomate in People Management (DPM) by the People Management Association of the Philippines (PMAP).
The DPM is the highest rank of the three levels of recognition in the Human Relations (HR) practice bestowed by the PMAP through its credentialing body, the Philippine Society of Fellows (PSOF) in People Management.
"I am very thankful and honored that the premier organization of HR Professionals and People Managers recognized my life-long experience in HR work, and my role in uplifting the HR profession. This recognition inspires me a lot because it speaks of who I am as a leader, and of the principles that I have learned through the years as a people person," said Vargas.
The Award was presented at the Investiture Ceremony during the PMAP General Membership Meeting held last November 25, 2015 at Dusit Thani Hotel in Makati City. Vargas received the Award together with his wife, Gloria Vargas.