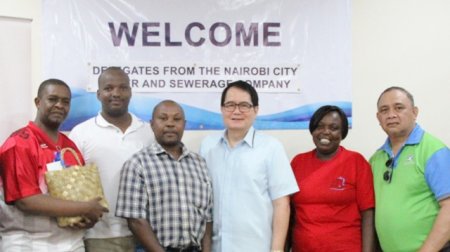 Representatives from the Nairobi City Water and Sewerage Co. (NCWSC) recently met with Maynilad Water Services, Inc. (Maynilad) for a tour of its facilities and to exchange best practices regarding their experiences in developing and implementing their Water Safety Plans (WSP).
A WSP details programs in ensuring the safety of drinking water, including risk assessment and contingency procedures in case of water contamination.
In 2012, Maynilad's WSP was unanimously chosen by a panel of experts as the Overall Winner in the Drinking Water Safety Awards of the World Health Organization (WHO) and International Water Association (IWA).
Being the first of its kind in the Philippines, the Maynilad WSP was used as a model for the formulation of WSPs in other water districts in the country. Moreover, the WHO uses Maynilad's WSP in the Training Workbook on Water Safety Plans for Urban Systems. The WHO workbook is being distributed in countries comprising the Western Pacific Region to facilitate the formulation of WSPs by water districts.
Meanwhile, NCWSC's WSP won the East African Regional Award, having been recognized for its good WSP preparation and stakeholder engagement, and for integrating the WSP in its business plan and budget.
"Delivering safe water to our service area is a vital component of our business. We hope that this knowledge-exchange with the representatives from Nairobi will enrich our understanding of how we can continue to provide safe water to our customers," said Maynilad President Ricky P. Vargas. The benchmarking activity between Maynilad and NCWSC was organized by IWA.
Maynilad is the largest private water concessionaire in the Philippines in terms of customer base. It is a concessionaire of the Metropolitan Waterworks and Sewerage System (MWSS) for the West Zone of the Greater Manila Area, which is composed of the cities of Manila (all but portions of San Andres & Sta. Ana), Quezon City (west of San Juan River, West Avenue, EDSA, Congressional, Mindanao Avenue, the northern part starting from the Districts of the Holy Spirit & Batasan Hills), Makati (west of South Super Highway), Caloocan, Pasay, Parañaque, Las Piñas, Muntinlupa, Valenzuela, Navotas and Malabon—all in Metro Manila; the cities of Cavite, Bacoor and Imus, and the towns of Kawit, Noveleta and Rosario—all in Cavite Province.
IN PHOTO: Maynilad President and CEO Ricky P. Vargas and Head of Corporate Quality Environment Safety and Health Engr. Francisco Arellano (4th and 6th from left, respectively) with the representatives of Nairobi City Water and Sewerage Co. led by their Central Region's Regional Manager Jane Mumbi (5th from left).