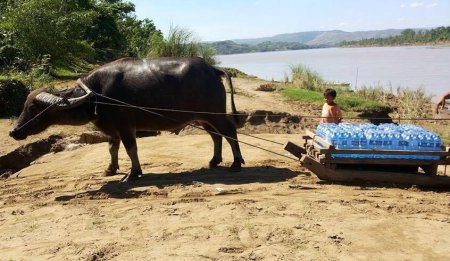 West Zone Concessionaire Maynilad Water Services, Inc. (Maynilad), through its Mission Ginhawa Program, donated about 10,500 water bottles and jugs in 2016 to assist victims of typhoon and fire incidents in the provinces of Batanes, Aurora, Cagayan, Kalinga, Apayao, Quezon and in Metro Manila.
Mission Ginhawa is a Maynilad Corporate Social Responsibility (CSR) program that aims to provide relief for calamity-stricken areas by giving access to safe drinking water. This it does through donations of potable water in bottles and jugs, as well as of compact microfiltration systems—a device that can purify water from deep wells and other freshwater sources without the need for electricity or chemicals.
In the photo, Maynilad water bottles are being delivered to a relief center in the town of Sto. Nino, Cagayan Valley, through the help of Alagang Kapatid Foundation, in the wake of Typhoon Lawin.