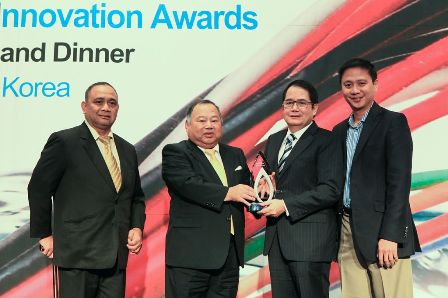 Metro Pacific and DMCI-led Maynilad Water Services, Inc. (Maynilad) was recently conferred the Global Honour Award by the International Water Association (IWA) in Busan, South Korea.
Maynilad won the prestigious award for its Water Service Transformation program, which resulted in the dramatic improvement and accelerated expansion of water services in the West Zone in just five years.
Launched upon the water company's re-privatization in 2007, the program involved the development and implementation of a holistic innovation strategy that led to the transformation of Maynilad's water system, people, business, customer services and public image.
The lone awardee from the Philippines, Maynilad competed against entries from all over the world in the Operations/Management Category of the Global Project Innovation Awards (PIA). Its victory in the Asia-Pacific heat of the PIA last July allowed it to compete against Regional Awardees from East Asia, Europe, West Asia and North America for the Global Project Awards.
"This award is a testament to the hard work and dedication of the Maynilad organization, as well as the transformative management expertise of Metro Pacific and DMCI. But more importantly, it is a victory for the Philippines because we were able to prove that we could stand side by side with the best water engineering companies in the world," said Maynilad President and CEO Ricky P. Vargas.

Organized by the International Water Association (IWA), the Global Project Innovation Awards recognizes innovation and excellence in water engineering projects around the world.
Based in the United Kingdom, IWA is a global network of over 10,000 water professionals who collaborate to promote the development and implementation of innovative and effective approaches to water management.

Maynilad is the largest private water concessionaire in the Philippines in terms of customer base. It is a concessionaire of the Metropolitan Waterworks and Sewerage System (MWSS) for the West Zone of the Greater Manila Area, which is composed of the cities of Manila (all but portions of San Andres & Sta. Ana), Quezon City (west of San Juan River, West Avenue, EDSA, Congressional, Mindanao Avenue, the northern part starting from the Districts of the Holy Spirit & Batasan Hills), Makati (west of South Super Highway), Caloocan, Pasay, Parañaque, Las Piñas, Muntinlupa, Valenzuela, Navotas and Malabon—all in Metro Manila; the cities of Cavite, Bacoor and Imus, and the towns of Kawit, Noveleta and Rosario—all in Cavite Province.

PHOTO CAPTION: President and CEO of Nagaoka International Corporation and member of the Global Project Innovation Awards judging panel Hitoshi Mimura (2nd from left) hands the award to Maynilad President and CEO Victorico P. Vargas (3rd from left). Also in the photo are (L-R) Maynilad SAVP for Quality Environment Safety and Health Management Engr. Francisco Arellano and SVP for Commercial and Marketing Patrick Gregorio.