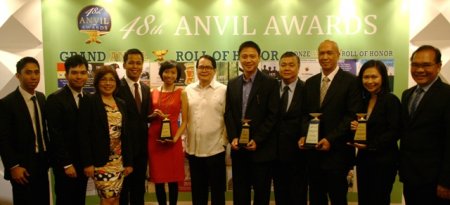 Maynilad Water Services, Inc. (Maynilad) won one Excellence Award and three Merit Awards at the 48th Anvil Awards held last March 6 at the Shangri-La Hotel in Makati City.
An Excellence Award was given for its "Maynilad sa Komunidad Helpdesk Program" (Public Relations Programs Directed at Specific Stakeholders Category), which sought to provide Maynilad customers in low-income areas with "branch office" services in a convenient, effective and cost-efficient manner.
The West Zone concessionaire was also recognized in the Public Relations Tools Category for the redesign of its company newsletter "Ripples" and the production of its "Beyond Basic Jingle" to engage employees and promote Maynilad's new mission, vision and core values.
Maynilad was also given noteworthy distinction for its "Redefining Maynilad: An Integrated Communication Program" (Public Relations Programs on a Sustained Basis Category), which is the company's strategic and integrated communication plan to improve public perception and develop a more consumer-centric mindset among its employees.
"We are enormously grateful for these recognitions from the Public Relations Society of the Philippines. These will further motivate us to continue developing communications programs that will help not only our company but the people we serve," said Maynilad President and CEO Ricky P. Vargas.
The Anvil Awards is awarded by the Public Relations Society of the Philippines (PRSP). It is the symbol of excellence in public relations in the country, awarded by a distinguished multi-sectoral jury to outstanding public relations programs and tools designed and implemented in the past year.
IN PHOTO: Receiving the Anvil Awards are members of Maynilad's communications team along with company officials led by President and CEO Ricky Vargas, Commercial and Marketing head Patrick Gregorio, Human Resources head Levi Diestro, and Central B District head Bernard Padilla (6th, 7th, 8th and 9th from left, respectively).